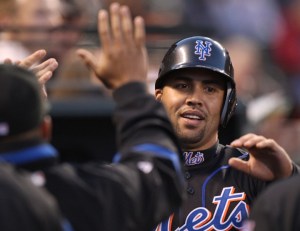 It's a truism in professional sports that a good player in New York is an automatic celebrity. Not only is he guaranteed more high-priced endorsement deals, but he has a big edge over players in the suburbs when it comes to All-Star and MVP support. It comes as something of a surprise, then, to realize that the best all-around player in New York baseball is also its most underappreciated. If you think that both of those labels don't fit Carlos Beltran, consider the following:
— In his 11 previous major league seasons (including 6 ½ seasons with the Kansas City Royals and a half season for the Houston Astros), he has hit more than 20 home runs eight times, more than 30 home runs in 3 seasons, and 38 or more twice, including 41 in 2006 with the Mets.
— Beltran has driven in more than 100 runs in 8 seasons and scored more than 100 in 7. That's as many as Albert Pujols, generally regarded as the best hitter in the game today.
Not to confuse the issue: Beltran isn't a better hitter than Pujols, who's three years younger and has played three fewer seasons, but Carlos surpasses him in other areas of the game.
— Beltran is a terrific base runner and base stealer, arguably the best in the game today. Through May 14, he has 279 stolen bases and been thrown out only 38 times, having stolen more than 20 bases in 7 seasons and 30 or more 4 times, and more than 40 twice, including two amazing seasons, 2003-04, in which he stole 83 bases in 90 attempts. Baseball analysts tell us that a player must be successful around 75% of the time to really make a contribution; Beltran's career success rate is a staggering 88%.
Let's put that in perspective. Rickey Henderson's, baseball's all-time stolen base champ, had an 80.1% success rate over 25 seasons. Sharp-eyed readers will say "Yes, but that includes Henderson's down seasons when his stolen base percentage was likely to be lower." True, but after his first 12 seasons, Rickey's was successful in 81.6% of his attempts, or 6.4% lower than Beltran's right now.
— Defensively, Beltran may have no equal. He was a Gold Glove winner in centerfield from 2006-08; the think tank at Baseball Prospectus called him "The best centerfielder in baseball for the second time in the last three years." Fielding statistics in baseball are never conclusive, but Beltran's are pretty impressive no matter how you look at them. His career fielding percentage is .985, 12 points better than his peers in centerfield in the American and National Leagues in the same period, and he has gotten to an average of 2.80 balls over nine innings compared to 2.67 for everyone else.
His bosses know how good he is. At $18,622,809, he was the highest paid player in the National League last year when he hit .284 with 27 home runs and 112 RBIs, scored 116 runs scored, and stole 25 bases (in 28 attempts). That plus a Gold Glove.
Many sportswriters, surprisingly, do not know. There is no way a player can put up such amazing numbers in so many different facets of the game as Beltran has without being on a fast track to the Hall of Fame. But when was the last time you heard anyone speak of him that way? In fact, where was his support last year when it came to vote for baseball's MVP?
As researcher Dave Fleming pointed out on Bill James Online, "Last year, Beltran had a remarkable season … He hit .333/.390/.528 in clutch situations and .344/.440/.645 during the September stretch …" And yet, "Thirty-two writers voted for the NL MVP. None of them thought Beltran was the best player in the National Leager. Only three [emphasis Fleming's] of the writers thought Beltran was one of the top ten players in the league. By the writers' consensus, he was the 21st best player in the NL last year."
"Ryan Howard came in second in the MVP vote. Beltran beat him in every single statistical category except home runs."
In fact, Beltran's teammate, first baseman Carlos Delgado, got more MVP votes than Beltran. Delgado did hit 11 more home runs, but Beltran had more hits, walks, doubles, triples, and stolen bases, played a more important defensive position, and hit better in so-called clutch situations.
So why doesn't the City's press recognize this guy as one of the best in the game today? Why haven't Mets fans embraced him the way they have Jose Reyes, David Wright, and, for that matter, Carlos Delgado? "Pick your reason," says Prospectus's Steven Goldman. "They were offended by the size of his contract, he doesn't give much of himself away in interviews, he had a lousy first season with the Mets in 2005. In fact, it was his only bad season in the major leagues." (He hit just .266 with 16 home runs and 17 stolen bases.)
Goldman concludes, "If none of those explains his lack of appreciation, maybe it's some combination of them."
I'd like to add one more: the memory of Beltran taking a called third strike to end the seventh and final game of the 2006 National League Championship Series – which quickly erased the memory of the three home runs and eight runs scored he had in that series. (The headline of MSNBC's story: "With season on line, Beltran doesn't lift bat.") For the record, he's a lifetime .366 hitter in 22 postseason games with 11 home runs and 8 stolen bases in 8 attempts.
What does someone have to do to win over the fans in this town? Well, hitting .370, as Beltran has so far this season, and pulling the Mets out of a tailspin and into first place in the NL East could be a start.