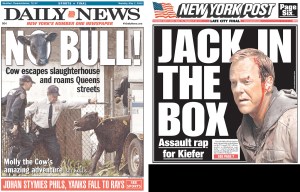 Daily News: Here are two sentences about something that happened yesterday in Jamaica, Queens: A cow escaped from a slaughterhouse and ran through a residential neighborhood. Police chased it into a backyard where they stunned the animal and then brought in animal control to take the cow away. Actually, here is a third: The cow may be sent to an animal sanctuary and spared the slaughter. What to do with this piece of news? One possibility is to stretch it out over a full page: Interview unschocked neighbors who saw the cow; unspool a few bad puns and jokey references to "top sirloin," put up a few pictures. Let's go with this, and, for good measure, let's put it on the front page! Such was the hysteria, apparently, in the offices of the Daily News yesterday. We have to wonder whether anyone in the Daily News offices actually laughed about this story. Rather, we imagine them saying, numbly, "This is funny. Let's put it on the cover." How much fun did they have coming up with the front page? "NO BULL" is the headline. Oh, the cow's head is sticking out of the "O!" NO BULL because it was a cow, not a bull. (Why did you think it was a bull?) How about TWO subheads! We can have some fun with this! O.K., O.K.: "Cow escapes slaughterhouse and roams Queens streets." Sweet! No. 2? "Molly the Cow's amazing adventure." If you've ever walked around South Jamaica, you know just how amazing this adventure was! (Wood War has, actually. But then we weren't escaping from a metal bolt shot through our right ear.) How slow was the news day? Pretty slow.
There was one other item on the front page of the News this morning! A thin red box at the bottom refers to the Sports section in general. "JOHAN STYMIES PHILS, YANKS FALL TO RAYS."
New York Post: A day late and a dollar short, the Post mysteriously decides to put the story it already ran yesterday on Page Six on the cover. Not just put it on the cover, but take up the whole front page with it. "JACK IN THE BOX" reads the headline, with a picture of Kiefer Sutherland as Jack Bauer from television's 24, blood running down his cheek from his temple. You may remember from everybody in the universe reporting it yesterday that Mr. Sutherland is accused of head-butting fashion designer Jack McCollough, a co-founder of Proenza Schouler, at a Met Costume Institute ball after-party at Submercer late Monday night. That makes the story a Tuesday story for the blogs (it was!) and a Wednesday story for the papers (it was!) What makes it a story on Thursday at all? Much less a cover story? Daily News readers who saw the piece on their newspaper's cover yesterday will feel vindicated for their loyalty today when they see the Post on the newsstand. There are, of course, some developments, none of them exclusive to the Post, all of them stale to anyone who doesn't live under a rock. Mr. Sutherland plans to turn himself in today. Brooke Shields, whose personal space Mr. Sutherland apparently believed himself to be defending when he head-butted the designer, will also talk to police today—taking sides against Mr. Sutherland. We don't do a point system in Wood War, but if we did we would subtract points from the Post for its rotten insinuations that Mr. McCollough is gay and that Mr. Sutherland is an alcoholic, neither observation earned by reporting that the reader has access to, and both, by virtue of their coy presentation, coming off as juvenile. If the Post wants to characterize this as a drunken gay-bashing, they should have the guts to come out and say it.
General Observations: We don't have much sympathy for either paper this morning, both of which are embarrassing stinkers. At least the News offered a story that is technically defensible in journalistic terms. The Post compounds its embarrassing choice by giving it the whole page, being late on the story, offering nothing new and trading in cheap insinuations. This despite the fact that at least two stories for today offered tremendous front-page potential for either paper: Victoria Beckham's unveiling of a revealing 20-foot-long poster advertising her Armani skivvies; and the revelation that relatives of Bernie Madoff used corporate credit cards to live the high life in Manhattan on their benefactor's clients' stolen money. Especially great is the revelation that his son tipped 60 dollars on a check at wildly expensive Manhattan restaurant Per Se that totaled more than a thousand dollars. The weather's rotten, guys, but you have the best jobs in the world. Please enjoy it a little more.
Winner: Daily News