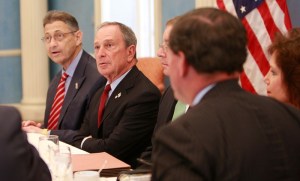 It was too much of a nice day Thursday to spend hours inside, negotiating complex real estate deals. So, as expected, the political summit designed to break a stalemate at the World Trade Center was brief (about an hour long), and did not end with any large detailed plan or path forward.
Rather, the attendees—developer Larry Silverstein, Mayor Bloomberg, New Jersey Governor Jon Corzine, Governor Paterson and Assembly Speaker Sheldon Silver; and Port Authority executive director Chris Ward and Port Authority chairman Anthony Coscia, among others—agreed to devise a "roadmap," in the words of Mr. Bloomberg, with the principals agreeing to meet again around June 11.
The public remarks following the meeting were brief. The mayor, flanked by Messrs. Paterson and Silver as well as Deputy Mayor Bob Lieber outside Gracie Mansion, outlined the vague path forward as a small legion of staffers and Mr. Silverstein watched from the mansion's porch.
"We want to create a roadmap that would create progress at the site," Mr. Bloomberg said. That will "require a realignment of incentives, which will take time to negotiate. It'll require us to find ways to safeguard public resources."
The discussions will be led on a staff level until the next principals' meeting, though all are expected to continually meet, at least for now.
One of the most central questions is how many office towers to build in addition to the Freedom Tower—one or two—and that did not appear to be resolved (though the mayor did seem to echo Mr. Silverstein's position, saying the parties need to "begin building for tomorrow's real estate market. … The financial and real estate markets will come back.")
If the answer to that question is two towers, the issue of financing jumps to the fore, as the Port Authority claims it simply does not have the capacity to pay for a second tower without decimating what it says is an already bare bones capital plan.
ebrown@observer.com