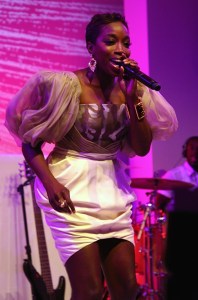 Editor's note: There are corrections to this article at the end of it.
Public broadcasting exec Sharon Rockefeller strolled into the sculpture garden at the Museum of Modern Art on Tuesday night, May 26, alongside the artist Jack Shear, both laughing, with cocktails in hand after sitting down to a sensible dinner.
"We had peanut butter and jelly sandwiches," quipped Mr. Shear.
"And salad," added Ms. Rockefeller.
"You had lobster," Mr. Shear pointed out.
"It's economic savvy times!" Ms. Rockefeller declared.
Mayor Michael Bloomberg, real estate mogul Jerry Speyer, and actress Glenn Close, among others, had also turned out for the museum's annual Party in the Garden.
The venue, outfitted with white tents, resembled an outdoor bar on Miami's South Beach and seemed as crowded as the No. 6 train during rush hour.
Party supplies didn't last. Guests who approached the bar after 9 p.m. were informed that the museum had entirely run out of tonic, club soda, lemons and limes. "I guess that means more alcohol for all of us!" noted one high-spirited guest.
Many high-profile attendees, including investor Henry Kravis and his wife, Marie-Josee, bolted promptly after dinner. "We'd better run," the couple told the Daily Transom on their way out.
Those who stuck around, such as the artist Brice Marden, were treated to a special performance by the singer Estelle. "I heard the artist was pretty good," said Mr. Marden, sporting a blue beanie and black jacket.
"We think New York City is the best place in the entire world," said Ms. Rockefeller, a museum trustee, who nonetheless spends much of her time in and around Washington, D.C. (her husband is U.S. Sen. Jay Rockefeller of West Virginia), as she headed toward the dance floor. "It really is. People should come, have a good time, and come to MoMA. We have great art coming up."
CORRECTION: The original version misspelled the name of the artist Mr. Marden. The Observer regrets the error.