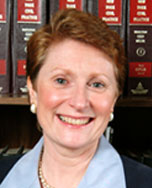 Jo Anne Simon, City Council candidate from Brooklyn, has a Sonia Sotomayor story.
Years ago, in a case that produced what will be one of Sotomayor's more closely scrutinized rulings as she prepares for her Supreme Court confirmation hearings, Simon was the lead counsel for the plaintiff, and, ultimately, the winner.
The case centered around Simon's client, Marilyn Bartlett, a severely dyslexic law student. Simon was arguing that Bartlett had a right to additional time on the state bar exam under the Americans with Disabilities Act.
"It was very clear to me, very early on, that she was extremely bright and extremely careful about the way her court was run," Simon said of Sotomayor, in an interview. "She was very demanding, but she was also very fair. It was hard to B.S. her."  
When Bartlett v. New York State Board of Law Examiners began in 1993, Simon—who is now running in a crowded Council primary in David Yassky's district on the Brooklyn waterfront—was three years removed from Fordham Law School, and Judge Sotomayor was in her first full year as a district court judge.
"I didn't know anything about her at all," Simon said. (This would change when the case dragged on for about eight years.)
Simon said Sotomayor had had no prior experience with the legislation, which had not been heavily litigated at the time.
"This was cutting-edge case law and there wasn't a lot of it on this issue when we started," Simon said. According to her, it "would have been easy" for a court to rule in favor of the attorney general's office.
"She didn't," she said. "She wanted to know more." 
"Early on, when there was a question about whether or not we'd be able to delay certain discovery, [Sotomayor] was concerned that it would take a long time. Her question was: 'This is this woman's life, how does she feel about this?'" Simon recalled. "It was very clear that it mattered to her what the plaintiff's plans for her life were. There was a recognition on her part, and it clearly mattered that there was an important person behind this case," said Simon. 
After Sotomayor ruled in favor of Simon's client, the case become one of three controversial decisions that came up in Sotomayor's fifteen-month confirmation to the Second Circuit Court of Appeals in 1997 and 1998. (The case was not resolved until 2001, after two trials and subsequent appeals.)
At the time it was treated as something of a radical ruling, Simon said: "I remember reading something about just how crazy this decision was—that it was just a totally crazy decision—but I don't think it was as crazy as it was made about to be."
But the decision stood the test of time. When Congress amended the Americans with Disabilities Act last summer, it specifically tailored the act to be consistent with the Bartlett case. (Simon testified at the hearings, and calls the case's impact on the amendments "a very proud moment.")
The 33rd Council district is a particularly liberal one, so Simon's status as the lead counsel in a case associated with President Obama's first Supreme Court nominee can only help.
Simon expects that the association, via Bartlett, won't hurt Sotomayor either.
"I think she will more than be able to handle herself in her hearing," Simon said. "She's exactly what we need on the Supreme Court."