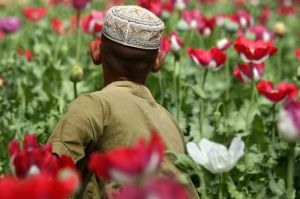 Here's a quote from a story written by the Times' Nick Confessore, which appeared on A1 on June 14, headlined, "Senate Coup Exposes Albany's Lack of Order""
"'It's like feudal Japan," said Blair Horner, legislative director of the New York Public Interest Research Group. "There's a weak emperor and strong warlords.'"
Here's a line from a story written by the Times' Clyde Haberman, which appeared on A13 on June 16, headlined, "From Halls of Montezuma to Floors of Albany, Something Went Awry":
"Albany under Governor Paterson is reminiscent of Afghanistan: nominally commanded by a weak leader, but with powerful warlords ascendant."
We couldn't decide which is more accurate, but Mr. Haberman told us that there's only one way to go on this one.
"I'd go with Afghanistan," he said Tuesday afternoon, shortly after he had a tooth pulled. "I covered Japan for five years. Now that you mention it, there was a weak emperor in the Tokugawa period, but there was a very strong shogun who weakened the warlords."
The shogun, he explained to us, was the really powerful figure back then.
"Afghanistan is more apt," he concluded, "with all due respect to Blair Horner."