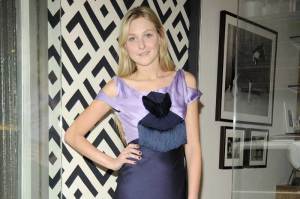 Designer Zac Posen was peeking out from under a red-carnation-adorned brown fedora, trying to pick out his favorite item in the new design boutique Haus Interior on Elizabeth Street at an opening party on Monday, June 22. "It's hard to see anything with so many people!" he said.
The store is the brainchild of Nina Freudenberger, 29, an alumna of the design firm Costas Kondylis and Partners (responsible for outfitting Lindsey Lohan's luxury high-rise apartment) who has built up her own client list, which includes Downtown Records.( No relation to fiction writer Nell Freudenberger!)
Milling about were socialites Bettina Zilkha, Chessy Wilson and Lisa Salzer; jewelry designer Luigi Tadini; actress Zoe Kazan; and stylists Amanda Ross and Kate Schelter. "Nina's done it all herself," Ms. Schelter said. "She's rolled up her sleeves—and probably wallpapered the walls herself. She brings her own eye to everything."
"It feels like you're in someone's home," Mr. Tadini said. "Nina's style is really based on how she lives her own life. The store is really a reflection of that."
Among the wares: beach towels from India, napkins from Japan and blown glass from Sweden. "I grew up in Munich, so I like things simple and clean," said Ms. Freudenberger, a striking blonde. "I think that's where elegance comes out."
But there were also plenty of tchotchkes: pillows covered in vintage sailcloth; customizable terrariums; vintage trophies. Almost everything in the shop was tagged at $300 or less. "I think it's about finding beauty in the really simple, unique things that you get excited about," said Ms. Freudenberger, who's targeting members of the 24-to-35-year-old set looking to decorate their first apartment.