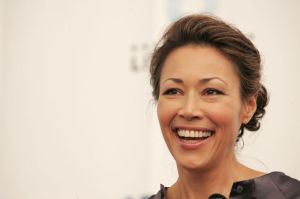 Ann Curry was on fire.
"Here's what's pissing me off," she said, leaning forward in her chair. She was jabbing a pale finger at the audience of more than 350 new media types who had unfolded their laptops at the 140 Characters Conference on June 16th.
"The reason I have to fight every time to do these stories is because the truth is that it's hard to get the majority of Americans or even a significant number of Americans in NBC, Fox, ABC, CBS's world, to care," she told the crowd, who had, probably for the first time during the all-day conference lifted their heads from their laptops to listen. "I think journalism is a battle and I feel the scars and I see the blood on my sword on a daily basis for fights for foreign coverage to be more present in our broadcasting."
Ms. Curry, the Today Show news anchor and Dateline host, wearing a modest blue dress and purple sweater, was on stage at New World Stages on West 50th Street with her Today Show producer Ryan Osborn, CNN Newsroom anchor Rick Sanchez, and Clayton Morris, co-host of Fox & Friends Weekend. They were speaking about the "disruptive nature" of Twitter to traditional news gathering, just two days after major news networks came under fire in the Twitterverse for their perceived lack of coverage of the violent protests in Iran. A real-time battle about what it means to be traditional media in a "now media" world unfolded.
Mr. Sanchez, who responded on the #CNNfail trending topic on Twitter on his Monday show, started off the conversation, prickled by questions about his network's coverage from moderator Robert Scoble, a tech super-blogger and Twitter and FriendFeed evangelist who recently left FastCompany.tv for his own pursuits.
"We did cover it, every hour on Saturday," Mr. Sanchez insisted. "There were times on Saturday that we were being criticized for not looping or not showing that protest video," he continued. "Those are decisions that are made by executive producers in the heat of the moment and throughout the day's news. But at no time did we drop the ball on covering the story itself."
He also added that the network was in "constant contact" with their chief international correspondent, Christiane Amanpour, "who was there on the ground, in Tehran, with tear gas in her eyes and in her face, actually covering the story, and that means a lot. And I think it could be a little insulting to someone like her to say that we weren't on the story just because…we weren't rolling coverage of the protest of every moment of the day on Saturday, the second Saturday of the summer."
Mr. Scoble asked if traditional news judgment, which tends to skirt foreign coverage, is changing because so many Twitter users feel connected with others using the platform across the globe.
"This is the first time that we are going to be able to connect with citizens that we, in the so-called mainstream media, will be able to pay attention to…who out there could be a reliable source aside from our talking heads….and happy faced, really pretty anchors," said Mr. Sanchez.
"I'm not sure I'm a happy faced, pretty anchor," interrupted Ms. Curry.
"Is the mainstream media covering the world enough? And the answer is no," she added. "The world is changing and we're not keeping pace."
Ms. Curry had just returned from Iran to tape an hour-long special titled "Inside Iran" for Dateline NBC, which aired Sunday night. Ms. Curry blogged her coverage for Dateline's site, took pictures during her tour and, of course, Twittered.
"There is a set of rules," she said about her "real-time" reporting. "I feel a great obligation never to Twitter something that is wrong."
"Reporting is a service job, it's not a business," she said. "It's about taking care of people and you take care of people by looking at the truth and you work for people who are reading or watching or listening to you."
Mr. Osborn, the Today Show producer, came to her defense: "We refuse to kind of sacrifice our creditability that was built on generations and generations of producers and reporters before us. In a way, we're asking for patience."
But while Ms. Curry is doing her best to adapt to the "now" forms of news-dissemination, Mr. Sanchez seemed to have a few hangups about the wave of demands from Twitterers.
"You," Mr. Sanchez said, addressing the crowd, "and the social media on Twitter have been pushing us at CNN to drive the story about whether this Iran election was legitimate or not. And I have read on Twitter countless reports that it wasn't. I have checked with our sources on the ground there and not a single one of them have been able to confirm that there is an impropriety."
"Let me come clean with you guys, and let's not pretend that we're talking to children," Mr. Sanchez said. "If today, Britney Spears is caught shoplifting topless, I'm making this up by the way, and we don't do it…"
Ms. Curry interjected, her lips pursed at her microphone: "I'm not doing the interview and I'm not doing it."
Mr. Sanchez talked over her. "But I guarantee you, normally, they will have a million viewers to our 20,000 if we decide we're going for Darfur."
"Some things you've gotta do," Ms. Curry said.
"I use Twitter to make sure that anything I can't get on TV I get out there," she added.
She said while she was reporting in Iran, many citizens and protestors feared her coverage would "demonize" them as terrorists.
"Often times, when we go into foreign countries, one of the worst mistakes that we make as mainstream media people, as any kind of media people, and I hope this changes with the advent of citizen journalism, is that we are unable to empathize in a way that sees their story truthfully," she said. "We often go in as Americans telling the story of how Americans see the story going on somewhere. That is a huge mistake."
And she implored the crowd to use their tech savvy to "compassionately" cover the under-covered world.
"I want you, whether you're in the Congo or Darfur or if you're in Iran or if you're in Tanzania, Kosovo, places we've gone to, you shoot that story like it's your mother, your brother, your sister, your father and your cousin and you tell that in that way because that's actually the road, I think, to not only clarity and truth and understanding. But I think it's also the road to really fully becoming global."