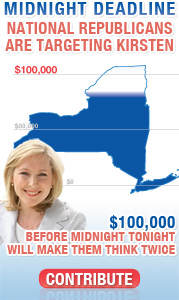 ALBANY—A week after she asked donors to help her raise $100,000 by invoking a hypothetical race next year against George Pataki, Kirsten Gillibrand told donors earlier today that she's still $25,000 shy of her goal.
Gillibrand has been relentless in raising money, guarding against a potential primary in 2010.
Pataki talked in February with national Republicans about the prospect of a Senate run.
Here's the text of the e-mail, which was forwarded to me by a Gillibrand donor:
Thank you for your generous support and your many efforts!  With big name Republicans like former Governor George Pataki considering a run, it's more important than ever that we make this goal.  We cannot afford to let the Republicans take this seat in the Senate and block President Obama's agenda.  We now stand only 25k short of our goal for our June 30th deadline, which is just over 12 hours away.  In these next few hours, please encourage your friends, colleagues, and family to add to your efforts and contribute before midnight tonight – it will truly make the difference!

Best,

Ross

 ———- Forwarded message ———-
From: Kirsten Gillibrand
Date: Mon, Jun 29, 2009 at 10:28 AM
Subject: Last Minute Help
To: Ross

Dear Ross,

I hope you enjoyed the weekend – I'm just getting back from a few events on Fire Island and they were fantastic.  I wanted to make a direct ask to help me as much as you personally can in the next 2 days.  I am trying my best to show the strongest quarter possible, and I am not yet at my goal.  This quarter will mean a tremendous amount to whether we get a tough opponent. 

Please do whatever you can to encourage your friends to support this race.  My political team is available if you have any questions at 202-XXX-XXXX.  If you haven't given yet this quarter, can you please consider matching your earlier investment, or giving whatever is in your budget?  It will truly make a big difference.  You can go online at www.kirstengillibrand.com/contribute or call the office at 202-XXX-XXXX if you would like to give over the phone.  Thanks for the consideration and the constant help.

Much affection and appreciation,

Kirsten
Sent via BlackBerry by AT&T
UPDATE: Gillibrand's campaign says they met their goal.