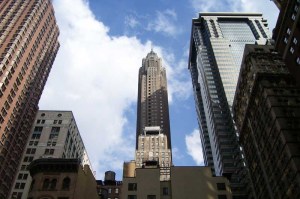 Tuesday's blockbuster news that a Korean investment bank and local developer Young Woo are in contract to buy AIG's two skyscrapers downtown begs the question: Is Asian money the next wave to hit New York commercial real estate?
"It is definitely a trend," said Yoron Cohen, executive vice president of Cushman & Wakefield's New York capital markets group. "We have quite a few Asian groups looking at stuff that we have for sale."
And who can blame them? There are some signs that Asian economies are, thus far, weathering this global economic crisis better than most, at least according to a recent article in The New York Times. And, it's hard to deny the temptress appeal of Manhattan skyscrapers to the moneyed investor;they are sometimes lovely; they are the physical embodiment of power; they're in the financial capital of the United States; and, amid fears of inflation, these very tangible assets are, at least to some, increasingly attractive.
One of the firsts indications that Asian money may help buoy the Manhattan real estate market arrived Tuesday, when CB Richard Ellis, which is representing AIG, announced that the fallen insurance giant's two downtown skyscrapers–at 70 Pine Street and 70 Wall Street–were in contract to be sold to Kumho Investment Bank, based in South Korea, and Youngwoo & Associates, a New York-based development company headed by Korean immigrant Young Woo.
"Korea has been a rising star in the East for some time," said one investment broker who asked to remain anonymous, in response to the news. "They are definitely heading our way more and more."
Investment brokers also say they have been on the receiving end of investment inquiries from China, Indonesia and Singapore, among others. "The investors from the Far East are a lot more confident and less afraid than investors in the rest of the world," Mr. Cohen said.
Guy Benn, a vice president at Savill's US, said he's been fielding many more inquiries "from Asia, some from China, two Korean groups."
Another investment broker said he couldn't comment, because the topic of Asian investors might endanger one of his pending deals.
drubinstein@observer.com