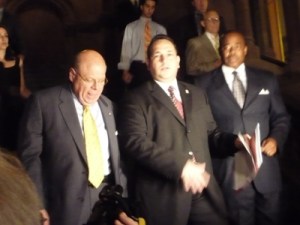 ALBANY—Three State Senate Democrats are trying to call David Paterson's bluff.
State Senators Hiram Monserrate, Carl Kruger and Eric Adams formally requested David Paterson sign into law 14 bills that were passed in extraordinary session on Tuesday. They maintain bills passed in that session are not legally sound because the Assembly, while it has passed bills in its regular session, has not passed the legislation in extraordinary session. They view Paterson's reluctance to sign the legislation as a tacit acknowledgment of this fact, and his calling of the hobbled State Senate into special session is abusive.
"It's time for the governor to put his pen where his mouth has been," Monserrate declared.
"The one thing we must ask the governor: Why are you calling them, if you're not willing to sign the bills?" Adams asked.
The men said they will attend a special session called for 3 p.m. this afternoon, and any special session, but believe they are being improperly held "hostage," as Kruger said, by the executive branch.
Paterson's staffers maintain they are reviewing the legality of bills acted upon Tuesday, which came from a session fraught with other difficulties. The governor's aides have also said that the point of calling extraordinary sessions is to force compromise, which seems to be happening.