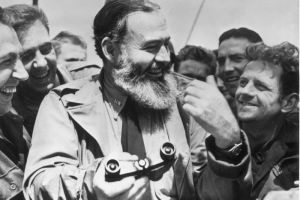 Literary agent Julie Barer is auctioning a novel today by the author Paula McLain written from the perspective of Ernest Hemingway's first wife, Hadley Richardson.

Richardson, who was born to a wealthy St. Louis family in 1891, lived with Hemingway in Paris and supported him financially from 1921 until their divorce five years later.
"There was a lot of hard drinking and fast living during that time, with everyone sort of sleeping with everyone else, and they were really a part of that," Ms. Barer said. "They were really kind of a golden couple."
Their marriage was originally documented in Hemingway's memoir of literary life in Paris, A Moveable Feast, which was published in 1964 and is being reissued this summer by Scribner.
The marriage ended after Richardson discovered that Hemingway was carrying on an affair with Pauline Pfeiffer. According to Paul Johnson's 1990 book Intellectuals, Richardson initially agreed to a three-way living arrangement ("three breakfast trays," "three wet bathing suits on the line, three bicycles"), before allowing a trial separation and finally a divorce. Hemingway, who married Pfeiffer in 1927 and went on to marry twice more before shooting himself in 1961, wrote a letter to Richardson lamenting the "great hurt" he had done to her and calling her "the best and truest and loveliest person that I have ever known."
Ms. Barer called Ms. McLain's novel, titled A Great Good Place, a "heartbreaking love story."
"The first time I read a full draft of the novel I basically cried for the entire second half," Ms. Barer added, citing one scene in which Richardson reads an early draft of The Sun Also Rises and discovers that she has been written out of it completely even though she was at Hemingway's side during the events that inspired it.
"The way Paula has rendered her, she kind of recognizes Hemingway for who he is, and as much as she hates him for it, she loves him," Ms. Barer said.
Richardson, who died in 1979, was the subject of a 1992 biography by Gioia Diliberto. She had one son with Hemingway, John 'Jack' Hadley Nicanor Hemingway, who in turn was the father of actress Mariel Hemingway.
Ms. McLain, who is 44 and lives near Cleveland, Ohio, is the author of several other books, including a memoir about growing up in foster care called Like Family that was published by Little, Brown in 2003, and the novel A Ticket to Ride, which was published by Ecco last year. Those two books were edited by Emily Takoudes, who has since left Ecco to work at the Random House cookbook imprint Clarkson Potter.
A Great Good Place will be the second novel published in recent memory written from the perspective of a famous man's wife—the other being Curtis Sittenfeld's novel about Laura Bush, American Wife. But Ms. Barer said she did not mention that book when she was pitching Ms. McLain's novel to publishers. "A couple of people mentioned Loving Frank, but to be honest I didn't mention any comp titles when I called people about this book," she said. "It stands out on his own."
Ms. Barer said she hopes the auction for the book will be wrapped up later today—"it's always painful for everybody if it drags on for longer than a day"—so expect an update tomorrow morning or in the late afternoon.