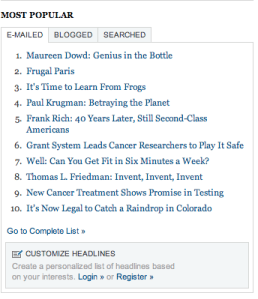 Ever notice that the NYTimes.com most-emailed list is slanted toward an older demographic? Maybe because only folks over a certain age—like our Aunt Mabel—still use the email tool. Here's a quick, annotated guide to what grandma and grandpa thought you might be interested in from NYTimes.com …
1. Maureen Dowd swings for the fences on Mark Sanford, and score! She takes the top spot.
2. It's starting to feel like getaway time in New York, and if Auntie is considering Paris, she's learning how to travel cheaply there.
3. Kristof! Columnists having their biggest day in over a week.
4. Krugman on Earth.
5. Frank Rich on why he loves the gays. And why Obama doesn't.
6. How we won't cure cancer.
7. Still with the abs!
8. Friedman!
9. More cancer!
10. Collecting rainwater is legal in Colorado now!!
Final Tally:
Columnists: 5
Health: 3
Travel: 1
National Features: 1
11-Day Total:
Health: 24
Columnists: 23
Travel: 7
Money: 6
Technology: 5
Op-Ed contributors: 5