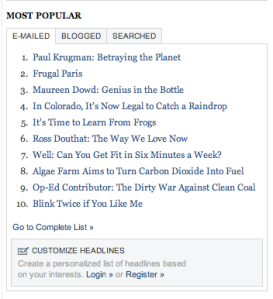 Ever notice that the NYTimes.com most-emailed list is slanted toward an older demographic? Maybe because only folks over a certain age—like our Aunt Mabel—still use the email tool. Here's a quick, annotated guide to what grandma and grandpa thought you might be interested in from NYTimes.com …
An Observation: After turning her attention away from columnists last week, they seem to be all that Auntie is interested in these days! Columnists and science stories. Where she directs her love is unpredictable, but we do know this: She's consistent on what she likes for an entire week. And now, today!
1. Krugman's climate change bumped up to No. 1 from No. 3 yesterday, trading spots with Dowd.
2. Cheap Paris holds steady!
3. Maureen Dowd's home run swing—'Marco' Sanford—gets her a very respectable two-day bounce.
4. Raindrops in Colorado moves on up!
5. And there's Kristof's story from yesterday, moving up.
6. Ross Douthat writes about the state of marriages—and even though it's all the rage these days, he doesn't use the word gay, once.
7. The six-minute workout makes it here for a fifth consecutive day.
8. Science, business.
9. Science.
10. Clean coal (science).
Final Tally:
Columnists: 4
Science: 2
Health: 1
Travel: 1
National Features: 1
Op-Ed contributors: 1
12-Day Total:
Columnists: 27
Health: 25
Travel: 8
Money: 6
Op-Ed contributors: 6
Technology: 5