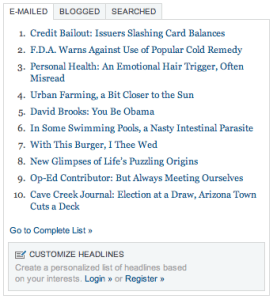 Ever notice that the NYTimes.com most-emailed list is slanted toward an older demographic? Maybe because only folks over a certain age—like our Aunt Mabel—still use the email tool. Here's a quick, annotated guide to what grandma and grandpa thought you might be interested in from NYTimes.com …
An Observation: Aunt Mabel decided to shake things up on Wednesday! Only one story from the top 10 list yesterday remains on the list. But don't worry: She stays loyal to her favorite topics. And Iran still isn't one of them.
1. Unlike Frank Rich, who instantly catapulted to No. 1 on Sunday/Monday, this story has steadily creeped up the list to land on the top spot. Auntie loves herself a piece where creditors are settling delinquent accounts for much less than what was originally owed.
2. Don't use Zicam! This story, we humbly think, actually should be No. 1. In fact, I wish Mabel had sent me this this morning. Zicam is one of the reasons why we haven't been so sick in the last year. Feel a little tingle in your throat? Squirt this up your nose, repeat every four hours, and cold averted! But apparently the F.D.A. said this will destroy your sense of smell, and there are a whole bunch of lawsuits against it. We see a Mabel-ready Day 2 story tomorrow: Life After Zicam.
3. Borderline personality disorder, misconception, health, Aunt Mabel wheelhouse.
4. The popularity of growing a garden on a city rooftop.
5. David Brooks wins the Wednesday war among columnists.
6. Apparently when you dip into a swimming pool, you're also entering a cesspool of parasites!
7. Auntie loves to talk about wedding food, especially when the photo is of mini-burgers smothered in cheese.
8. Evolution science story!
9. Auntie's intellectual streak comes out when she reads Colum McCann on Ulysses.
10. A lot of people Aunt Mabel's age live in Arizona, we've heard. Or, they like the Southwest, anyway! Maybe that explains this piece in the top 10?
Final Tally:
Health: 4
Columnists: 1
Op-Ed Contributors: 1
(2 for Op-Ed Pages)
Money: 1
Dining: 1
Science: 1
Iran, foreign unrest: 0
Three Day Total:
Columnists: 8
Editorials: 1
Op-Ed Contributors: 3
(12 for Op-Ed Pages)
Health: 6
Travel: 4
Money: 2
Iran, foreign unrest: 0