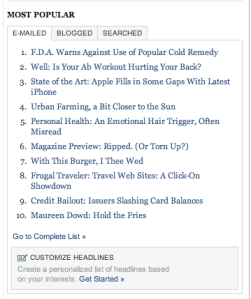 Ever notice that the NYTimes.com most-emailed list is slanted toward an older demographic? Maybe because only folks over a certain age—like our Aunt Mabel—still use the email tool. Here's a quick, annotated guide to what grandma and grandpa thought you might be interested in from NYTimes.com …
1. Here we go, Auntie! Yesterday, we desperately wanted the Zicam story at No. 1. Today, we've got it. To review briefly: The wonderful little wonder-drug, Zicam, perfect for helping you avert a cold, apparently destroys your sense of smell. Or so say some lawsuits. I mean, this story is an actual public service! Now we know who to trust to scour nytimes.com to find the important stuff. Thanks Auntie.
2. Dispute among scientists! Today's debate is over whether having sculpted abs or a Rambo-ish six pack is actually good for you! Some have contended the better your abs, the stronger your back. Maybe not!
3. It's Pogue on the new iPhone. Exactly.
4. The urban garden story—which was No. 4 yesterday—has surprising traction and stays in the top 10.
5. Borderline personality disorder, two days strong.
6. This is one of those moments when we realize that we're getting a little older. Well, let me explain. Yesterday, the moment that Cynthia Gorney's story on Rafael Nadal story came online—it'll be the cover story of this weekend's Magazine—we immediately started reading it. And we kind of felt like the only ones doing so! But apparently Mabel loves Nadal, too, because, whoa, here's our first sports story in the top 10.
7. Mini-burgers smothered in cheese—for weddings! Food is big today!
8. We're just going to share the headline on this one: Frugal Traveler: Travel Web Sites: A Click-On Showdown
9. We were really impressed with yesterday's No. 1, about credit card debt, but it has fallen. The urban garden, borderline personality disorder and lowbrow wedding food all maintained a higher spot on Day 2. Auntie got bored of this one fast.
10. Maureen Dowd! Not only is this our first columnist of the day, it's our first Op-Ed contribution of the day. Auntie, spread the wealth!
Final Tally:
Health: 3
Dining: 2
Sports: 1
Money: 1
Technology: 1
Travel: 1
Columnists: 1
(1 for Op-Ed Pages)
Four Day Total:
Columnists: 9
Editorials: 1
Op-Ed Contributors: 3
(13 for Op-Ed Pages)
Health: 9
Travel: 5
Money: 3
Dining: 2
Technology: 2