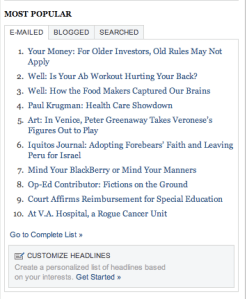 Ever notice that the NYTimes.com most-emailed list is slanted toward an older demographic? Maybe because only folks over a certain age—like our Aunt Mabel—still use the email tool. Here's a quick, annotated guide to what grandma and grandpa thought you might be interested in from NYTimes.com …
An Observation:In today's print edition there are three stories—out of six slots—about Iran. Auntie Mabel continues to refuse to acknowledge it. But she does spread the wealth today! We hit on a lot of categories, including two new ones—arts and education—but health once again dominates. In fact, for the first time since we started this last Monday, health stories are now more popular than columnists pieces for our Auntie. Maybe it has something to do with the rain. Or abs.
1. The "Older Investor" story climbs from No. 2 to No. 1! Not that we're surprised.
2. Abs. Still!
3. Salt + Sugar + Fat = Food makers own us. But Tara Parker-Pope says Aunt Mabel can fight it.
4. Our winning—and only—columnist today!
5. Arts reporter Roberta Smith travels to Venice to report back on "possibly the best unmanned art history lecture you'll ever experience." It's also the first arts story we've had in seven days of Aunt Mabel!
6. This is about Jews in Peru.
7. BlackBerry etiquette!
8. High-thinker Tony Judt inserts himself in Israel and Palestine issues once again. This came out yesterday, and took a day to gain some steam.
9. First education story! We have a feeling this will heat up again in the late summer. But for now, we learn that special-ed kids can get government reimbursement for private-school tuition.
10. Our No. 1 story yesterday that combines investigative reportage with Auntie's favorite topic (health) just barely clings onto the top 10.
Final Tally:
Health: 3
Columnists: 1
Money: 1
Ethics: 1
Education: 1
Arts: 1
Op-Ed Contributor: 1
Foreign News: 1
Seven Day Total:
Health: 15
Columnists: 14
Travel: 5
Technology: 5
Money: 5
Op-Ed Contributors: 4
Ethics: 2