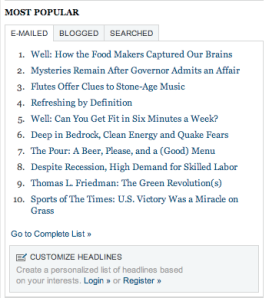 Ever notice that the NYTimes.com most-emailed list is slanted toward an older demographic? Maybe because only folks over a certain age—like our Aunt Mabel—still use the email tool. Here's a quick, annotated guide to what grandma and grandpa thought you might be interested in from NYTimes.com …
1. Tara Parker-Pope is entering hallowed grounds. Two straight days at no. 1 and three straight days of top 3. Only Frank Rich can compete with this.
2. A news story! Albeit it's one of the greatest ever, featuring LUV GOV no. 2. But it's still funny to see a straight news story, with a newsy lede, take such a high spot.
3. Flutes in the Stone Age! Now I've heard it all!
5. Booze!
5. Seriously?
6. Jim Glanz's investigative piece makes it two days in a row.
7. Booze!
8. Special skills and we'll put you to work! Two days straight for this one.
9. Friedman barely holds on in this week in what has been a dreadful week for the columnists.
10. George Vecsey's column about the U.S. victory over Spain on Wednesday. Second only to the 80 US Hockey team, he says.
Final Tally:
Health: 2
Booze: 2
Columnists: 1
Investigative Journalism: 1
Science: 1
Sports: 1
Business: 1
National News: 1
Nine Day Total:
Health: 19
Columnists: 16
Money: 6
Travel: 5
Technology: 5
Investigative Journalism: 4
Booze: 4