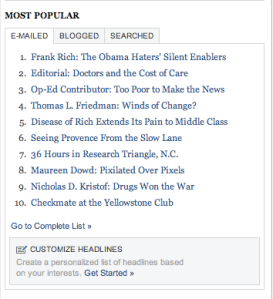 Ever noticed that the NYT most emailed list is slanted toward, well, an older demographic? Maybe because only folks over a certain age—like our Aunt Mabel—still use the email tool! Here's a quick, annotated guide to what grandma and grandpa read in the paper (and sent to you!) over the weekend. We read it so you don't have to!
1. Rich is king this Sunday and is the only top 10 writer to directly
address Obama
2. Health Care editorial! It's a crisis where "all Americans are
affected"! The conclusion, if not exactly provocative, is a guaranteed
winner to the email-sending set: "Doctors have been complicit in
driving up health care costs. They need to become part of the
solution."
3. Barbara Ehrenreich debuts a new Op-Ed series on the poor! It's a famous person, on poor people! Aunt Mabel loves Ms. Eherenreich.
4. Friedman tackles the Mideast. Always a winner!
5. Gout affects the Middle Class! AND (!) it's about the
pharmaceutical industry! We're surprised, actually, this isn't higher
than Friedman.
6. Business writer Joe Nocera writes about a D.I.Y bike tour in
Provence for the Travel section that he took—happily, to the
budget-capped Times—last July.
7. If there's one thing we've learned so far it's that we're all poor!
So how about an affordable trip to the Research Triangle that combines
"slow-paced Southern charm and urban cool?" Slow-paced and cool?
Sounds like how Aunt Mabel sees herself!
8. Dowd on women and men. LOL! Not really.
9. Kristof and Drugs
10. Hey, it's a story that could have appeared in Portfolio!
Ex-Portfolio big shot Amy Wallace scores a big business investigative
piece on how Edra Denise Blixseth is getting battered by this
financial mess.
Final Tally:
Columnists: 4
Editorials: 1
Op-Ed Contibutors: 1
(6 for Op-Ed Pages)
Travel: 2
Health: 1
Investigative Journalism: 1