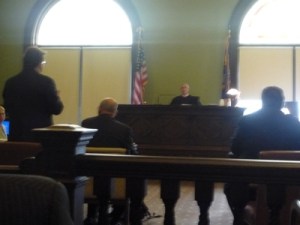 TROY—A judge has refused to sign a temporary restraining order preventing State Senator Pedro Espada Jr., who claimed to have been elected president pro tempore of the State Senate in a coup Monday that has paralyzed state government, from discharging that office.
However, the judge did reschedule a hearing on the merits of Monday's coup for Friday morning.
"I think the people of the State of New York are the ones suffering from this, and the people of the State of New York are the ones suffering from the failure to agree," George B. Ceresia, an administrative judge in Rensselaer County, said. "I had hoped to get the parties to agree to something to keep the government so it was not in a chaotic condition. However, I think my powers are pretty clearly restrained."
"I don't have the power to issue a restraining order such as is being sought here," he said.
Democratic lawyers sought to declare Espada Jr. "temporarily restrained and enjoined from executing any of the powers of the temporary president." With Ceresia's refusal to sign the order, the brinksmanship that occurred Wednesday will likely continue today.
This is a major setback for the Democrats' primary strategy now: stalling. Members of the conference met Wednesday night, I'm told by one of them, and decided to move ahead with the suit so that more pressure can be placed on Espada Jr. and his fellow defector Hiram Monserrate. Monserrate wavered yesterday in his commitment to support the coalition, preventing a session that Espada Jr. and Republican Leader Dean Skelos promised to hold.
Arguing for the Democrats were Andrew Celli and Richard Emery, who were flanked by most of the conference's other legal staff as well as Senators Neil Breslin and Eric Schneiderman.
"As we speak, there are discussions ongoing," Celli said in court. The restraining order will "permit the political process to go on a little bit longer."
John Ciampoli, the omnipresent Republican attorney, appeared on behalf of Espada Jr.
"The only reason there is any chaos in the Senate today is because Maclolm Smith continues to claim he is the majority leader," he told Ceresia.
Celli argued that the resolution Republicans rammed through the chamber Monday–with the support of Espada Jr. and Monserrate–was out of order and invalid. Smith, he said, was elected to a two-year term as majority leader and temporary president in January. Ciampoli countered that procedure was followed Monday, and that a court had no jurisdiction to interfere with the legislative process.
UPDATE: The Democrats are appealing the ruling for the restraining order right now in Kingston.