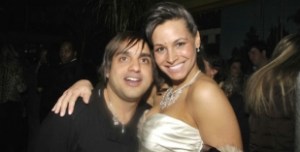 We were a tad disturbed the other day when we picked up the phone at the old headquarters and heard a menacing, vaguely familiar voice on the other end.
"It's Giovanni Luciano," said the legendary Bungalow Bungler, whom I visited in prison upstate last year. "Yeah, I read the article you wrote about me. Yeah. I got out. I'm just down the block from The New York Observer."
I did some quick smooth-talking, suggested we grab a soda later that afternoon to discuss a possible follow-up—Bungler Part II: Free at Last!—which Mr. Luciano sounded very excited about. He said since he'd been back on the streets, he'd been visiting his old haunts. Earlier that day, he'd walked by his old stomping ground, Bungalow 8, where he'd finally been busted with a cache of stolen credit cards. When something urgent came up and I called back to reschedule sodas for another day, the voice-mail greeting was that of a young-sounding woman. I left a message, and hoped for the best.
Not long after, I received the following email. The sender asked to remain anonymous but was willing to have her story published, so that the masses could be forewarned.
I recently came across your article about the "Bungalow Bungler" and after reading felt compelled to contact you to share my recent run with the "nephew of Domenico Dolce". About 3 or 4 weeks ago, on a Sunday, I had an errand to run, and afterwards, I had some friends whose bands were playing in Washington Square Park. I pick up some lunch, and am sitting at a picnic table in the park eating my lunch, and Giovanni comes over to the table and asks if he could sit. He asked what I was eating, and a few other questions. Explains that he is from Milan. We exchange some pleasantries, but quickly goes into how he is related to someone very famous. As a person whom has lived in NYC her entire life, I was not that impressed, NYC is filled with celebrities and their relatives. Also, I figured he was some spoiled rich kid with bad manners. He also told me he worked as an interior designer. We wound up spending some time together, I explained to him about the band, that I was there to take some photos, that several of my friends were also going to be there. It was a bit chilly, so we went to get some coffee. We walk over to Starbucks on Astor Place, he asks if we could be friends, saying he has no friends. He was charming and sweet, but I could tell he was a bit off. Why I was going to get coffee with him, not sure. I didn't want to upset him and figured I needed to ditch him. We get coffee, he leaves to get a cigarette, and is gone for 20 minutes, just as I was about to ditch him, he turns the corner….I explain I need to get back to the park.

This is where he goes nuts. We are in the park, and I figure, I need to keep my distance, he really started to creep me out. I am talking to my friends, we are all there to enjoy the band. He was insulted that I wasn't introducing him to anyone. At one point he comes up to me, and asks if a woman I know is a lesbian. I said no. I am off talking to another friend, when I see him talking to that woman, and apparently he had asked her if she was a lesbian. Clearly upset, she tells him to get away, she doesn't want to speak to him, that he was being rude. He further continues to justify his inquiry, boasting how its ok that she is gay, his uncle is gay, he knows lots of gay people and how she looks very masculine. Because she wouldn't entertain his nonsense, he got very agitated and angry and started to scream at her and those around, you are all peasants. He should give that woman money to get plastic surgery to make her look more like a woman.

I stood there in shock, then he comes up to me, and is grabbing my arms…trying to plead with me how my friend attacked him. I was trying to calm him down, telling him, I am sorry, I do not think we can be friends. He was very disrespectful to my friend and thus disrespectful to me. I told him he should leave. It was pure chaos. Finally, I ran after my friend, whom was very upset by his comments.

Thankfully I have not seen him since the incident and didn't give him my phone number or email.

After reading your article, I was a bit frightened by this young man. He clearly is a sociopath and believes his lies. Much of what you wrote in your article, he told me about. His brother a banker, his sister a model, whom has an Italian police officer as a boyfriend. He claims to live in an Central Park West apartment. He told me that he just got out of rehab for cocaine. He was an interesting person.

Thanks for letting me share my story.

Regards
[Name redacted]