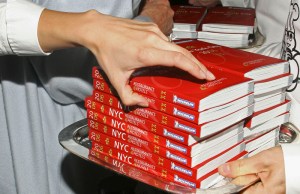 We have an exciting piece of news! Observer.com is now the host of all the Michelin reviews of New York restaurants.
The originally French guide is best known for making and breaking the reputations of fancy French chefs, but lots of restaurants in New York are reviewed here, and not all of them are very expensive.
Restaurants are reviewed and sometimes assigned one, two or three stars. The amount you can expect to spend is represented by two or four dollar signs—or a pile of coins, if the place is inexpensive. Look on the right rail for a widget that will let you search the whole guide by neighborhood, cuisine and more.
Some of them have the head of the Michelin man next to the title—that means it's a "Bib Gourmand," a good value. All of them have a "forks and spoon" rating, from one to five, with one being "quite comfortable" and five being "luxurious."
Since we're all feeling a little tight with money these, and since New Yorkers are nothing if not adventurous eaters, here's a list of restaurants rated with a pile of coins; click the link to read the review:
1. Taco Taco, Mexican, Upper East Side, Manhattan.
2. The Smoke Joint, Barbecue, Downtown Brooklyn.
3. Spicy and Tasty, Chinese, Flushing, Queens.
4. Brisas del Caribe, Puerto Rican, Parkchester, the Bronx.
5. Zoma, Ethiopian, Harlem, Manhattan.
6. Adrienne's Pizza Bar, Pizza, Financial District, Manhattan.
7. Malagueta, Brazilian, Astoria, Queens.
8. Water Falls Cafe, Middle Eastern, Brooklyn Heights-Cobble Hill.
9. Silent H, Vietnamese, Williamsburg, Brooklyn.