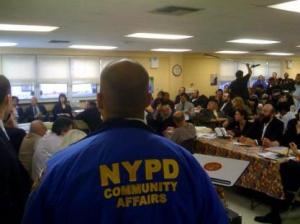 Opponents of a Brooklyn redevelopment project packed a Community Board 1 meeting last night in Williamsburg, drowning out a presentation by the city's Housing Preservation and Development office, in a battle that could influence City Council primaries in the 33rd and 34th districts this September.
Roughly 50 protesters, armed with signs and a bullhorn, chanted "Open Process" and "Shut It Down" inside a community room at the Swingin' 60s Senior Center.
After calling for order several times, board chairman Vincent Abate—presiding over what would be his last meeting after nearly 30 years on the board—allowed the protest and presentation to continue simultaneously.
The crowd seemed to feed on the disorder, growing even louder as a series of HPD representatives tried to outline the proposed plan, which would rezone approximately 20 acres of land near the border of Broadway and Flushing Avenue at the borders of Williamsburg, Bushwick and Bedford-Stuyvesant.
The protesters think that the city plan doesn't maximize the amount of affordable housing on one of the last, large open parcels in the area. The city—whose plan enjoys the strong backing of Brooklyn Democratic boss Vito Lopez, as well as local councilman and city comptroller candidate David Yassky—is proposing to build eight-story buildings. The protesters want 25-story buildings spread over 40 acres.
The protesters' vision is very different from the city's plan in other ways, too, calling for—among other things—pneumatic tubes to whisk away garbage, a community-owned power utility, and a neighborhood land trust. A Pratt professor who helped design the plan said last week that "the general gist of the plan is doable."
The organizers of the protest claim that influential community groups were left out of the planning process for the site, and that the process was dictated by Assemblyman Vito Lopez, the head of the Brooklyn Democratic organization.
The dispute has become a lightning rod in the contested race for the 34th Council district. When CB1 district manager and Council candidate Gerry Esposito briefly stepped out of the raucous meeting to consult with a Community Affairs officer from NYPD, some in the crowd jeered.
"Where you going, Gerry?" hollered Rob Solano, one of the group's organizers, who later said he had left messages for Mr. Esposito trying to relocate the meeting in anticipation of the large crowd. Mr. Esposito is running against incumbent Councilwoman Diana Reyna, who arrived later and denounced the city's plan.
Board members shifted uncomfortably in their seats during the uproar, and at least one decamped for the hallway. The chants kept going—"We Won't Listen" and "Transparency"—but HPD soldiered through the presentation, whether board members could hear them or not.