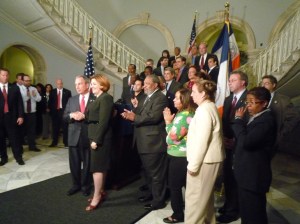 Michael Bloomberg and the City Council agreed on a $59.4 billion city budget deal that squashes the mayor's plan to shutter 16 fire companies, maintains current six-day services at libraries, prevents layoffs of child welfare workers, and trims by an unspecified margin the number of layoffs planned for other city workers.
"This is basically, as Chris said, preserving services," Bloomberg said, referring to Council Speaker Christine Quinn, during an event with the Council in the City Hall rotunda this evening. "I don't think there is any major cut that is going to really hurt anybody."
But advocates gathered around City Hall quietly muttered to themselves and reporters the fear that whatever was placed into the budget could be stripped after the November elections, when Bloomberg and a majority of the Council are expected to be reelected.
"This may not be the last word on this year's budget," said Bloomberg, referring to projections that the national and local economies were projected to grow slightly in the months ahead.
One reporter asked if the budget deal was hammered out with the expectation that state lawmakers would grant the city's request to create a new, cheaper Tier 5 pension benefit plan for future civil servants. Bloomberg said, "We are expecting and hoping that Albany helps us."
The city is also banking on Albany to grant the city authority to levy new taxes—about $887 million's worth. That's coming in the form of an increased sales tax, plus "applying the city sales tax to currently untaxed energy purchases," according to a press release from the mayor's office.
Passage of those new tax hikes is not usually an easy task in Albany, but it is even trickier this year, given the chaos that has gripped the State Senate. Plus, state lawmakers already passed a tax hike on everyone making over $250,000 a year.
As Councilman Vincent Gentile was walking out of City Hall, he spotted Councilman Jimmy Vacca of the Bronx, who had been wearing red shirts and ties to raise awareness about the proposed fire house closings. Vacca, so far, has prevented those cuts, and told me he was glad to finally get out of wearing red for a while.
Gentile greeted him with a smile and told me, "He's going to sleep well tonight." Vacca smiled, nodded and said he hoped so.