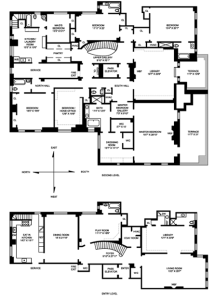 Only a few weeks ago, embattled film executive Bob Weinstein was quietly asking $34 million for his 14-room penthosue at the Beresford, even though he bought it in 2004 for $20 million. This week it's officially on the market, but, sadly, he's now only hoping for $29.75 million. The world of gloriously, stupendously over-luxurious New York real estate has been tough like that lately.
In two sentences alone, the lovely Brown Harris listing reports that "a grand stairway leads to six large bedrooms, seven and one-half bathrooms, a paneled library, huge family room, formal dining room, superb kitchen, laundry room, two terraces, three fireplaces and four exposures," and that Mr. Weinstein has a "Creston system for sound and lighting," plus three zones of air conditioning.
On the downside, the apartment's monthly maintenance fee is $10,076; on the plus side, the floor plan shows that the master bedroom suite has a terrace, a gallery, a dressing room, and two walk-in closets.
mabelson@observer.com