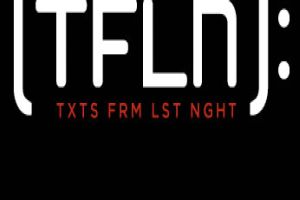 The mini-genre of books based on popular blogs shows no signs of abating, as the folks behind "Texts From Last Night" score a deal with the Gotham Books imprint of Penguin. The blog, which has been in operation for just a few months and, according to the agent who did this deal, currently averages 3.5 million hits per day, amounts to a regularly updated stream of sometimes funny, often embarrassing user-submitted text messages concerned mostly with sex and drinking.
'Twas a time when a book deal born of a blog was surprising (remember Julie and Julia?). These days it seems more and more like people start goofy Web sites practically counting on seeing their stuff between two covers.
Anyone who has followed the sales of these types of projects in recent months—the latest was "Look At This Fucking Hipster," which was sold to St. Martin's Press last week—will not be surprised to learn that the editor who acquired "Texts" for Gotham is Patrick Mulligan, one of the earliest and most consistent champions of the form. Over the past two years, Mr. Mulligan has signed up books based on Web sites such as Chuck Norris Facts, I Can Haz Cheezburger, Barack Obama Is Your New Bicycle and, most recently, GraphJam.com.
"Not all websites make great books," Mr. Mulligan said in an email. "You have to be confident that you can curate the material in such a way that it still hits its audience while also taking advantage of the book medium. For the books that I've worked on… my aim is that the person in the bookstore who picks up a copy will fall in love with the material the same way as someone who stumbles onto the website."

The "Texts From Last Night" book, compiled by a pair of friends from Detroit named Benjamin Bator and Lauren Leto, was agented by William Morris Endeavor's Erin Malone, who is also no stranger to this cottage industry. Ms. Malone previously struck gold when she got six figures from Random House back in March for a book based on "Stuff White People Like," which wound up spending weeks on the New York Times best-seller list.
Though Ms. Malone has sold several other blog-based books (among them We Feel Fine: An Almanac of Human Emotion and 1,000 Awesome Things), she refuses to think of them as being part of a distinct category based on where their source material comes from.
"I don't like to look at these books as 'blog books,'" Ms. Malone said in an email. "I consider projects based on websites in the same way I consider any other book idea, which is: do I think it will make a great book? And if I do, I go from there."
She indicated that one reason there have been so many books sold in recent months on the strength of blogs is that the Internet allows anyone who has an idea an easy way to test it out. "And so I do think that's where we will continue to see more books come from," she said. "Down the line I imagine it will become as accepted a starting point as anything else."
According to Ms. Malone, "Texts" will be published as a trade paperback original early next year.