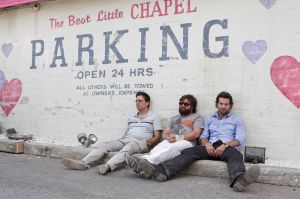 Hollywood is officially on a bender. For a second straight week, The Hangover narrowly topped Pixar's Up to earn the number one spot at the box office, grossing an astonishing $33.4 million in the process. Among the new releases, it was a tale of have and have not: The Taking of Pelham 1 2 3 pulled into third place with a solid $25 million, while Eddie Murphy added another embarrassment to his résumé with Imagine That. The kiddie film landed with a thud in sixth place, earning just $5.7 million. As we do each Monday, here's a breakdown of the top five at the box office.
1. The Hangover: $33.4 million ($105.3 million total)
So, at what point should we stop calling The Hangover a "sleeper hit?" Todd Phillips' film dipped a scant 26 percent this weekend, pushing its total to $105 million in just ten days of release. At this rate, The Hangover has a chance to not only cross $200 million in domestic receipts, but to also surpass Wedding Crashers as the highest grossing R-rated comedy in history. No one's sleeping on this thing: The Hangover is a certified blockbuster.
2. Up: $30.5 million ($187.1 million total)
Speaking of blockbusters, allow us to introduce you to Up. After easing just 31 percent in weekend three, the Pixar smash is now running only $4 million behind the pace of Finding Nemo (a.k.a. the highest grossing Pixar film ever with $339 million), which scored $191.5 million after its first seventeen days of release in 2003. With 3-D ticket sales still strong (52 percent of this weekend's purchases were for the extra dimension), Up should float passed $300 million with relative ease and has a very real chance of sailing by Nemo before all is said and done.
3. The Taking of Pelham 1 2 3: $25 million ($25 million total)
You'll be reading a lot today about how this total for The Taking of Pelham 1 2 3 is underwhelming. Don't believe it just yet. In the last decade, Denzel Washington's wide releases have averaged an opening weekend of around $23 million; over that same time period, John Travolta's have come up with $20.5 million. Based on those numbers, the R-rated thriller opened perfectly in line with what should have been expected from its two stars. The true test for The Taking of Pelham 1 2 3 will be in how it holds up next weekend. Stay tuned.
4. Night at the Museum: Battle of the Smithsonian: $9.6 million ($143.4 million total)
While not nearly as big as the first Night at the Museum, the sequel continues to hold strong, slipping just 36 percent in its fourth weekend. Fun fact: Battle of the Smithsonian is the fifth Ben Stiller film to pass the $140 million plateau; by comparison, Brad Pitt only has gotten to that number twice.
5. Land of the Lost: $9.1 million ($34.9 million total)
The ill-fated Will Ferrell comedy plunged 51 percent in weekend two, and still managed to easily hold off the opening frame of Imagine That ($5.7 million) to finish in fifth place. Why are we not surprised that a movie starring Eddie Murphy could make Land of the Lost look like a hit?