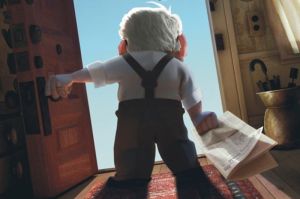 Insert aviation-related pun here. Pixar's Up flew to the top of the box office this weekend, as the animated film brought in an estimated $68.2 million to pace the competition. Not only is that more than last summer's sensation, Wall*E, grossed during its initial frame, it also marks the third biggest opening in the history of the studio, behind only Finding Nemo and The Incredibles. Things weren't as lucrative for the other nationwide release: Sam Raimi's Drag Me to Hell opened below expectations, descending into third place with $16.6 million. As we do each Monday, here's a breakdown of the top five at the box office.
1. Up: $68.2 million ($68.2 million total)
Before everyone gets too excited about the $68.2 million, some cold water: Up was seriously helped by 3-D showings, which accounted for a record-setting $35 million of this total gross, a number that tops the $32.6 million that Monsters vs. Aliens accrued from 3-D venues earlier this year. Of course that money is still green, but since 3-D tickets are more expensive (at Union Square, a 3-D ticket for Up costs $16.50), the Pixar film clearly wasn't exactly the sensation that many people might want to believe. That splash of reality aside, this is a very impressive opening and with the 3-D gimmick, Up should at least reach the $223 million that Wall*E grossed last year.
2. Night at the Museum: Battle of the Smithsonian: $25.5 million ($105.3 million total)
Faced with the mammoth opening of Up, a 52 percent tumble for the Ben Stiller family comedy in weekend two seems reasonable. Reaching the $250 million gross of the first film is totally out of the question, but, depending on how Battle of the Smithsonian fares next week against Land of the Lost, a $175 million total could be reached. If that happens, look for Night at the Museum: Tussle in the Louvre to hit theaters in 2011.
3. Drag Me to Hell: $16.6 million ($16.6 million total)
With due respect to Sam Raimi, this is not good. Despite universally strong reviews, Drag Me to Hell couldn't even top the opening salvos of such immortal 2009 horror entries like The Unborn ($19.8 million) and The Haunting in Connecticut ($23 million). There is hope, of course: Drag Me to Hell is likely to have great word of mouth and the month of June is devoid of major scares, so a final domestic gross of around $60 million could be possible. That being said, we assume Universal was expecting a bit more here.
4. Terminator Salvation: $16.1 million ($90.6 million total)
Is it too early to call Terminator Salvation the first flop of the year? The second weekend of the McG-directed borefest plunged 62 percent and barely held off the fourth weekend of Star Trek to finish in a disappointing fourth place. At this rate of depreciation, Terminator Salvation will be lucky to pass $110 million overall. For a film with a budget reportedly as high as $200 million—and for a franchise that is beloved—a final tally in that range will border on epic failure.
5. Star Trek: $12.8 million ($209.5 million total)
The aforementioned fourth weekend of Star Trek ebbed just 44 percent to edge out Angels & Demons ($11.2 million/$104.7 million total) for fifth place at the box office. In the process, Star Trek became the first film of 2009 to cross the $200 million dollar barrier. Proof that franchise brands are only as viable as the movies they produce does not seem to be needed.