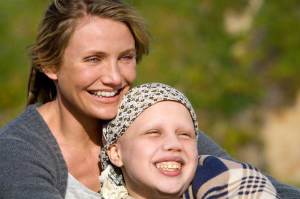 My Sister's Keeper
Running time 109 minutes
Written by Jeremy Leven and Nick Cassavetes
Directed by Nick Cassavetes
Starring Cameron Diaz, Jason Patric, Abigail Breslin, Alec Baldwin, Sofia Vassilieva
A less talented director than the sensitive, polished and mature master craftsman Nick Cassavetes might fail to lift My Sister's Keeper above the level of suicidal depression. It's about a 14-year-old girl dying of cancer, but don't let the subject matter deter you from experiencing a film of such heartfelt magic, wisdom and hope. The writing team of Jeremy Leven and director Cassavetes, who brought us the memorable and deeply effective film The Notebook, have joined forces with a great cast to bring the best-selling book by Jodi Picoult to life with a purity that can only be called inspirational.
Nothing Cameron Diaz and Jason Patric have ever done prepared me for their emotionally charged performances as the parents of three children coping with death in diverse ways. When their 2-year-old daughter, Kate, was diagnosed with a terminal illness, Sara and Brian Fitzgerald (Ms. Diaz and Mr. Patric) had only one prayer: to conceive another daughter through genetic engineering to be a perfect chromosomal match for her older sister's blood type and keep her alive. Now Kate, magnificently played by an astounding newcomer, Sofia Vassilieva, depends entirely on her little sister, Anna (Abigail Breslin), for survival. Every member of the family is impacted in some way. Kate feels guilty for turning Anna into a human guinea pig, sharing blood cells, donating bone marrow and enduring numerous crippling surgeries. Their parents fight; their brother has lost focus and is wandering aimlessly toward crime. They've been so involved with the problems of the two girls that they never had the time to figure out that their son is dyslexic. So Anna rebels against her fate as a "donor child" and decides to sue her family for the right to control her own body. She's only 11, and the legal age for "child emancipation" in California is 14. So she hires her own lawyer (Alec Baldwin) to sign her petition, and with the resulting court trial, the family will never be the same.
Instead of taking Kate home to die, or spending quality time with her, Sara insists she endure a kidney replacement, a surgical procedure the hospital will not perform with an unwilling donor. Anna's shocking revelation of why she wants to quit comes late and strengthens everyone's definition of loyalty and love. Thanks to meticulous details, a wide spectrum of issues and consistently well-developed character analysis, My Sister's Keeper never becomes a Disease of the Week flick. There is nothing routine about it. Nevertheless, be forewarned: a nickel pack of Kleenex won't do. A touching subplot about Kate's romance with another teenage hospital patient, culminating in the courage of two kids in their first (and final) blush of sexual experimentation, will fail to move only callous cynics with scar tissue for a heart. It may not be the kind of feel-good movie that reflects Ms. Diaz's customary bright and breezy self, but it's saved from wrenching sentimentality by a lot of wonderful actors (wait until you see the usually frenetic comedian Joan Cusack do the most introspective work of her career, as the conflicted judge hearing the case after losing her own daughter). Richly textured, subtle yet electrifying, My Sister's Keeper is an experience that will leave you shaken.
rreed@observer.com