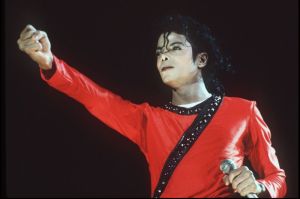 Some highlights of Michael Jackson features, photos, videos, games and mixes—all available online.
– AP's interactive timeline of Michael Jackson's life.
– Time's Top 10 MJ Moments.
– Life covers featuring Michael Jackson.
– Rolling Stone's Michael Jackson covers.
– People's covers.
– An online archive of his magazine covers from all over the world.
– NYTimes.com's Michael Jackson Legacy Interactive Feature. Tributes from readers around the world.
– NYTimes.com's Michael Jackson's Billboard Rankings Over Time.
– A soundboard of his quotes.
– A photo gallery of the King of Pop's changing face.
– A morphed animation of his changing face from Dateline NBC.
– The official Michael Jackson YouTube channel.
– Living With Michael Jackson documentary in 10 parts.
– The MJ Dance game: "Guitar Hero" type online game in which you get to control your MJ character and bust out some of his greatest moves.
– An examination of his relationship with Sega and video games.

– A collection of videos from the 2008 Thrill the World, an annual, worldwide simultaneous dance of "Thriller."
– A collection of tributes to him in 8-bit style.

– DJ Ayres of Brooklyn's The Rub DJ crew created The MJ Mix in 2008 (download here).
– Scott Melker, another New York–area DJ, created a tribute mix last night.
– A podcast and transcript of Chuck D speaking to WNYC's The Takeaway about his legacy and influence.

– An exploration of Jeff Koons' Michael Jackson and Bubbles sculpture with this San Francisco MOMA feature.
– A photo series of art inspired by MJ.

– A series of videos examining Michael Jackson's art collection.

– An analysis of his handwriting.
– An in-depth analysis of his astrological birth chart.
– A patent of his moonwalking "anti-gravity illusion."

– Artistic representations of the crowd-sourced White Glove tracking project, which captured Michael Jackson's white glove in all 10,060 frames of his nationally televised landmark performance of "Billy Jean."
– A video of fans dancing at the Apollo Theatre last night.