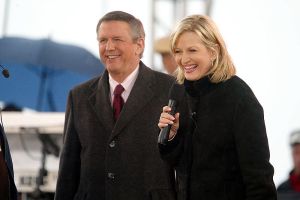 First, it was NBC News and its legions of anchors, and reporters, and photographers who descended on the White House. Now, ABC News is getting its shot.
ABC's field trip to the White House will kick off early on Wednesday, June, 24 when Good Morning America broadcasts from the South Lawn. That evening, Charles Gibson will anchor World News Tonight from the Blue Room. And finally, Mr. Gibson and Diane Sawyer will moderate a discussion about the future of health care with the president in the East Room that will air at 10 p.m. on a special edition of Primetime.
According to today's press release, ABC News' medical editor, Dr. Timothy Johnson, will contribute to the debate—as will an audience of viewers selected for their divergent opinions on health care reform.
Earlier this month, NBC News' Inside the Obama White House, in which Brian Williams spent hours roaming around the Oval Office interviewing top cabinet members and eventually going out for burgers with the president, attracted high ratings for NBC's beleaguered prime-time lineup, bringing in some 9.2 million viewers the first night and winning the 9 p.m. hour.
Along the way, Mr. Williams and his news division drew criticism for repeatedly using their access to the president as an opportunity to plug its entertainment divisions. As a result, we'd be surprised if on Wednesday we see Mr. Obama giving, say, a shout-out to Jimmy Kimmel Live.