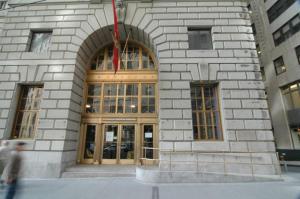 The Claremont Preparatory high school is negotiating for about 200,000 square feet at the Cunard Lines Building at 25 Broadway, according to sources familiar with negotiations. If inked, it would be one of 2009's biggest commercial leases.
Claremont, one of educational firm MetSchool's handful of for-profit private academies in New York City, earlier this year was on the verge of signing a lease at the Sapir Organization's chandelier-bedecked 100 Church Street. Sources say there was some concern on the part of the Sapirs' lenders about the school's creditworthiness. That could not be confirmed.
In May, the story changed, with school spokeswoman P. D. Cagliastro telling trade pub Real Estate Weekly, "Before we put the mallet to stone, we want to make sure we have the shortest commute for parents and students.
"We have parents who have children going to school at the 41 Broad Street location who are going to also now have kids in the high school," Mr. Cagliastro added. "We don't want them to have to walk more than 10 minutes to get between the two."
Neither Claremont, which is being repped by Newmark, nor CB Richard Ellis, which is repping both ACTA—which owns the Cunard Lines Building—and Sapir, would comment.
drubinstein@observer.com