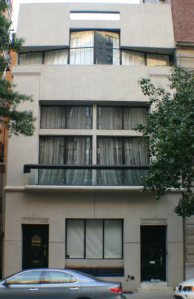 Editor's note: Cold Case is a new feature on the fates of New York's oldest residential real estate listings.
It's hard out there for luxury watch moguls with luxury Park Avenue townhouses. Benny Shabtai, the Raymond Weil executive, first put his 13-room townhouse at 870 Park Avenue on the market back in February 2004, only four years after he had bought it for $8.2 million. His asking price with Corcoran's Carrie Chiang was $23 million.
Even though the house didn't sell when the price went to $21 million and then $19.9 million, it was relisted with Paula Del Nunzio for $33 million last year. She told The Observer then that the house's value had been boosted by the mammoth success of 15 Central Park West, which was designed by Robert A. M. Stern, who once worked on the house: "Anything you do that's so famous and so well received," she said, "makes everything you did wonderful." Her listing put Mr. Stern's name in its subtitle, but didn't mention that he had worked on the place (a "futuristic beach house") in 1976, and that after it suffered a fire in 1992, the interior was rebuilt by Donald Trump's friend Costas Kondylis.
According to Ms. Chiang, she was consulted by Mr. Shabtai's wife about the listing last year, but the broker said she didn't want it if the tag was over $30 million. Indeed, after Ms. Del Nunzio's price came down to $26.75 million, the house dropped off the market and was relisted with Ms. Chiang. The new price was $19.95 million.
This week, according to her Web site, that tag came down to $17.5 million, nearly half its highest price.

According to her listing, Mr. Shabtai's master bedroom suite has a gas fireplace, a 28-foot-long dressing room and a spa bathroom (though there are also approved plans for an 1,100-square-foot roof garden with a hot tub). On the downside, there's also a tenant in the townhouse's office space whose $9,223-per-month lease runs until the end of next year.
mabelson@observer.com