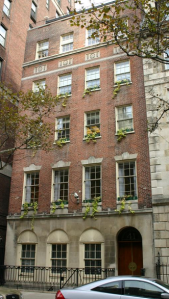 It's almost impossible to exaggerate the wild absurdity of high-end Manhattan real estate: On any given day, the price of one five-floor penthouse will be lowered to $27.9 million (even if its original price was twice as high), while the tag for an equally glam penthouse will be hiked from $25 million to $39 million. It's not that the huge real estate brokers who are handling these properties are fools; it's just that no one in New York seems to know which way is up these days.
Take the 11,256-square-foot, 28-foot-wide, six-floor, four-fireplace townhouse at 41 East 70th Street, which belongs to the public policy-focused Century Foundation. It was five years ago this month, back when the house was asking $15 million, that the Post reported Woody Allen and his wife were about to close on a contract for the place. But a few months later two papers reported that Mr. Allen had decided that renovating the townhouse from office space into a single-family mansion would have been too much of an annoyance.
Oddly, the townhouse's price only went up, and by the end of 2005 it was asking $25 million. A year later, its listing broker, Paula Del Nunzio, broke the townhouse record twice, selling one uptown mansion for $40 million and another nearby—which belonged, incidentally, to two of Mr. Allen's former producers, Jaqui Safra and Jean Doumanian—for $53 million.
So maybe it only seemed natural when, in July 2007, the tag for the Century Foundation's townhouse went up to $35 million, more than twice what it had been three years earlier.
That tag didn't change in 2008, even after the collapse of Lehman Brothers in September. (As it happens, the townhouse's shared rear enclave, a 66-foot-wide and 103-foot-long sprawl, is called the Lehman Gardens.) But in March, the foundation's price came down to $30 million, then to $29,995,000 a few days later.
"This is a rare opportunity," the listing says, "for the individual who seeks the irreplaceable impact of an extremely wide mansion on a garden enclave that will never be duplicated."
mabelson@observer.com