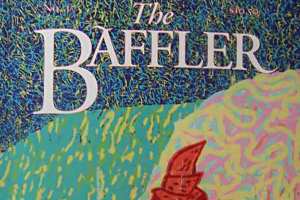 Thomas Frank is reviving The Baffler, the beloved left-wing magazine of business and culture he started in Chicago in 1988. The Baffler, which helped launch the careers of such journalists and editors as Chris Lehmann, Rick Perlstein, James Surowiecki, Tom Vanderbilt and Matt Weiland, was last published in the spring of 2007; before that, it had been lying dormant since 2003.
Now, with a new publisher in place named Conor O'Neil—a relative youngster who in 2002 founded the nonprofit Clio Society, a "forum for the arts and humanities," while an undergraduate at Northwestern—Mr. Frank will put the magazine on a regular, twice-yearly schedule, reversing its tradition of haphazardly publishing issues pretty much whenever one was ready. Dave "Diamonds" Mulcahey will return to the staff as managing editor.
Mr. Frank, who has risen to prominence since his early days as a self-identifying fringe figure in Chicago as the author of What's the Matter With Kansas and, more recently, as a columnist for The Wall Street Journal, said in an interview yesterday that readers should expect to see a lot of familiar voices in the new issue of the magazine, which is tentatively slated for publication in October. Writers who have been asked to contribute include Hermenaut founder Joshua Glenn, n+1 editor Mark Greif, BookForum editor Chris Lehmann, University of Illinois at Chicago professor and cultural critic Walter Benn Michaels, Zizek! director Astra Taylor and freelancers Christine Smallwood and Moe Tkacik.
During its heyday in the 1990s, Mr. Frank and the rest of The Baffler team strove to produce a critical antidote to the breathless New Economy evangelism they saw being eagerly peddled in business magazines and on TV, and a wake-up call to consumers engaged in what they called "corporate sponsored transgression." As the editors put it in the introduction to the 1997 collection Commodify Your Dissent, the purpose of The Baffler was to "confront the pomposities of power" and "burst the bubble of the moment, whether it was the 'alternative culture' or the liberating promise of cyber-revolution."
One big thing that will be different for this new iteration of The Baffler, Mr. Frank said, is the world its writers will be describing.
"We developed this critique of consumer culture and business culture, and lo and behold, a lot of the things that we were saying, instead of being this out-there stuff from the fringes of self-publishing land—it's stuff that I think will make sense to everybody nowadays," Mr. Frank said. "The world has come a lot closer to our way of seeing things. It's funny how obvious it is now!"
Where does that leave a magazine that had opposition built into its DNA?
"We did very well in the Clinton years, when you had a president and an administration in Washington that seemed on the surface to be very liberal, but that in fact wasn't, that in fact was as pro-business as any Democratic administration ever," Mr. Frank said. "That environment was really good for us—all that fake rebellion. That's all still going on. I don't think we're going to have any trouble finding targets to rebel against."
Historian Rick Perlstein, who wrote a number of Baffler pieces in the magazine's early days, agrees that there is still plenty of folly out there to condemn and expose.
"I think what's striking about our present moment is how resilient the culture of money has proven in the face of what should be its darkest hour," Mr. Perlstein said. "The bankers are still calling the shots in the structuring of the bailouts, and none of them are being called to account."
"The Baffler was a prophet without honor," he went on. "And I think that Tom and the people around him and his legions of readers and admirers just see this as something that is necessary, always was necessary, and maybe always will be necessary."
lneyfakh@observer.com