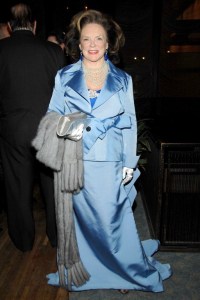 Last November, Kathy Sloane was in the Four Seasons Restaurant for the French-American Foundation's annual gala, wearing a baby-blue ball gown so vast that its train got stepped on the minute she walked in. A tuxedoed Rothschild heir was speaking about the economy from a podium: "We will come up," he said, "more alive than dead!"
"I love that optimism," Ms. Sloane said with a nod. There were five rows of pearls around her neck. Guests passed around a massive plate of white cotton candy topped by a candle. "That optimism," the broker murmured, "is so marvelous."
It had been a difficult year. In March, Ms. Sloane was one of 31 brokers named in a multimillion-dollar state-tax-evasion investigation, but the other 30 weren't remotely as prominent. It's not just that the 64-year-old has sold more than a billion dollars of real estate, as her biography at the high-chinned brokerage Brown Harris Stevens says. It's that Ms. Sloane typifies everything ambitious, connected, grand and proper in New York realty: She's said to have visited 91 properties in seven counties for Bill and Hillary Clinton before they settled on their Chappaqua house.
But her state-tax troubles are about to be over.
According to John Spencer, one of two assistant district attorneys who handled prosecution of the case, the charges against her will be dismissed in October, as long as she does not get arrested. She has already paid off the $125,479 she owed the state, plus nearly $100,000 in fraud penalties and another $62,000 or so in interest, Mr. Spencer said.
"Ms. Sloane is compliant with all arrangements to pay any taxes to any and all taxing authorities," a White Plains lawyer named Darius P. Chafizadeh, one of her attorneys, told The Observer. "Ms. Sloane is grateful that earlier this year the State of New York made a decision to dismiss any charges brought against her with respect to last year's investigation of numerous real estate brokers. Ms. Sloane is in compliance with the agreements reached with all taxing authorities and continues to be a tax paying citizen."
She herself has been unwilling to discuss any tax issues, state or federal. "If you bring it up again, ever, to me," she told a reporter last year, "it will be our last conversation."
The broker has weathered scandal before. The estate of philanthropist Mary Bingham reportedly won $26,187 after suing her over a loan in 1997, well after Ms. Sloane had begun doing mega-deals like the sale of Jackie Onassis' co-op. A year later, she settled out of court over $194,180 in old unpaid bills at a clothing store in Louisville, the city where her husband, Harvey, had been mayor.
"I don't focus on the negative," she told The Observer in 2007. "There simply isn't enough energy, human energy, or time in the day to allow the negative to dominate." That October, she got around $10.9 million for Stepford Wives star Peter Masterson's apartment, even though it was above 96th Street. A month later she got $18 million for the blue-spectacled Anne Slater's co-op at 998 Fifth Avenue, two floors down from the $27.5 million apartment she had sold that year to oil magnate Len Blavatnik. A month later, she sold a $15.1 million condo to Howard Stern.
"You make enemies, and you have a lot of jealousies. People love to see the king fall," Stephen Coffey, another attorney for Ms. Sloane, said this week.
"People always have a dream of a big broker hauled away in handcuffs," Elliman luxury broker Leonard Steinberg offered. "I think it's terribly unfair to pass judgment on anyone. To be quite honest, I know nothing about my taxes. I hand mine to my accountant."
Outside of Ms. Sloane's state-tax issues, the Post reported in late March that the I.R.S. had placed a $248,495 federal lien against her. One month later, records show, a $823,273 lien was filed, too. The I.R.S. placed another $149,874 lien four years ago, but it was settled quickly.
"She's had to struggle with a lot of stuff," Mr. Coffey said. "She had health problems"—he wouldn't clarify—"she had financial problems, she was trying to keep things together, she was struggling, she did the best she could and now she's moving on. I give her a lot of credit."
mabelson@observer.com