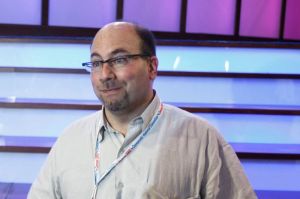 On June 22, Craig Newmark flashed Michelle Obama the "geek salute" on a playground in San Francisco. "I told her to pass it on to Obama," Mr. Newmark told the Observer, calling in today from his California home.
Otherwise known as the Star Trek live-long-and-prosper "vulcan salute," Mr. Newmark's high honor was given to the First Lady while they were helping Maria Shriver and a few hundred other volunteers build slides, picnic tables and other climbable things as part of a kick-off event for President Obama's United We Serve initiative.
Mr. Newmark was a bit prickled by John Hodgman's Radio and TV Correspondents' Association dinner speech last weekend, in which Mr. Hodgman exchanged the "geek salute" with President Obama and scrutinized his "nerd credentials." "He stole that act from me!" Mr. Newmark told the Observer, who often writes about the president's nerdiness on his blog. "He did it better than me though."
Mr. Newmark wins, regardless. All For Good, an online "Craigslist for service" platform sponsored by Mr. Newmark, is a simple, searchable database of volunteer opportunities all over the country and the Obama administration recently integrated the open-source service into the serve.gov site as part of the United We Serve plan.
"The deal is to make it so easy and convenient to find opportunities for you that might just fit with your life," Mr. Newmark said. "Lots of people want to help out but it has to be something doable, which means it might have to be nearby, and it has to be something you believe in. There's a lot of work going on online for this kind of thing, but All for Good brings it all together."
Listings can be sorted by region and cause, and a Google Map helps users spot exact locations. They can also sign in with Facebook Connect or Google Friend Connect to share volunteer activities with friends and encourage them to roll up some sleeves, too.
"What we're seeing is the triumph of the nerd," Mr. Newmark told the Observer with his soft-spoken, dry humor. "My goal is to convince people to save the world, and as you can see it's working."
Certainly, All For Good is one of Mr. Newmark's dreams come true. Last fall, he was one of Mr. Obama's "official technology surrogates", and heard Colin Powell use the phrase "a Craigslist for service" during a speech. In December, Mr. Newmark wrote up a Huffington Post article, imagining what it might look like.
The project was kick-started by UCLA professor Jonathan Greenblatt and Sonal Shah, the former head of leading global development at Google's philanthropy branch who is now running the new White House Office of Social Innovation and Civic Participation unit. They recruited Google engineers to work their coding magic behind the scenes. Meanwhile, Arianna Huffington signed on to support the project, along with companies including Aha! Ink, the Craigslist Foundation, FanFeedr, and YouTube.
"Some very smart people implemented something quickly, something that was a technical challenge but also an organizational challenge," Mr. Newmark said. "My challenge, in many respects, was to stay out of the way and let them do their work."
The site launched in beta a couple of weeks ago and Serve.gov scooped up the open-source technology.
The White House isn't the only organization that found ways to wield All for Good's open data. Ms. Huffington's team put together a customized widget for New Yorkers that displays volunteer opportunities in her new New York hyperlocal section, for example. There's also a mobile phone app called Catalista, which users can fire up to find opportunities in their immediate location, and even add volunteer possibilities to the database.
Our Good Works, a new nonprofit organization that sponsors All for Good, was created to release and develop more of these open-source technologies for civic work. Mr. Newmark and many other All for Good leaders are directors.
Mr. Newmark, outspoken supporter and adviser to Iraq and Afghanistan Veterans of America as well as DonorsChoose.org and VotoLatino.org, told the Observer that he can't volunteer in person as much as he'd like. His "customer service representative" duties at Craigslist (like kicking out phoney real estate brokers) takes up too much time. "I prefer to be a thing-doer but all the people involved in this say my value is in talking about it," Mr. Newmark said with a sigh. "Instead of being a thing doer I'm being a talking abouter."
Mr. Newmark will be doing more talking about technology and politics at Personal Democracy Forum next week. He'll be speaking at a roundtable on Iraq and Afghanistan Veterans of America, and introducing Vivek Kundra, Obama's top tech officer, for a keynote discussion.
That's another nerd he'll have to salute!