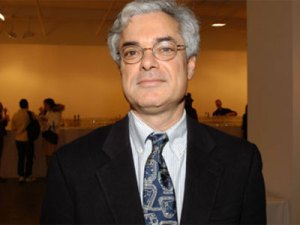 David Margolick, the ex-New York Times star and Vanity Fair contributor who found himself without a job after Portfolio folded, has a new home: Newsweek.
Mr. Margolick has signed a contract to write four to five stories a year for the newly re-imagined newsweekly, said Jon Meacham, the editor.
"He's a master of the kind of journalism we do need to do more of: deeply reported, narrative pieces that you can really settle into and learn about a world you didn't know about," said Mr. Meacham. "It's part of this counterintuitive bet that we hope we're making."
It's a statement move for Newsweek. The magazine traditionally has relied on the stable of writers that it has hired and groomed, correspondents who are spilled around the country and world. And someone like Mr. Margolick—a writer who hasn't worked in a newsroom for over a decade—is the sort of writer who will take weeks and weeks to report and then produce a 7,500 word story—isn't someone you'd exactly imagine as being an ideal candidate for a newsweekly. But with Newsweek trying to redefine and reposition itself, Mr. Meacham is looking for a new sort of writer.
"Some people have wanted to pigeonhole the relaunch as a New Republic, opinon-y thing," said Mr. Meacham. "As I told you, and as you've seen, it's argument and reported narrative. Margolick is one of the premier practitioners of the magazine epic. And we need more of that and we're delighted to have him."
The Observer reached out to Mr. Margolick, but we haven't heard back yet. In January 2008, when he left Vanity Fair for Portfolio, he told us, "I've sort of concluded it matters less where you appear than what you do and what you're able to do and how much support you have in doing that. Ultimately, one's work is judged by its intrinsic merit."