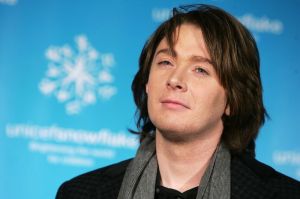 Lit agent David Vigliano is out with a proposal for a Clay Aiken book based on the American Idol star's 2006 Christmas special.
"He's got a very strong Christian audience, primarily because he's from the South, and that's an audience that seems to respond to Christmas stories," said Mr. Vigliano. "He also had the best-selling Christmas album"—that'd be 2004's Merry Christmas with Love—"and then did a Christmas tour every year since then. So it kind of made sense, because he had kind of an identity doing successful Christmas music."
Mr. Vigliano, who has been representing Mr. Aiken for just a few months, said his client's book would be a "modern reinvention of A Christmas Carol."
Mr. Vigliano said that Mr. Aiken's co-writer on the book will be Meri Nana-Ama Danquah, author of the memoir Willow Weep for Me: A Black Woman's Journey Through Depression and editor of the forthcoming anthology The Black Body, which is out from Seven Stories later this year.
One editor Mr. Vigliano did not submit the book to is Twelve publisher Jonathan Karp, who edited Mr. Aiken's best-selling 2004 memoir Learning to Sing: Hearing the Music of Your Life for Random House. In an essay for The Washington Post Mr. Karp wrote last year decrying the "relentless, indiscriminate proliferation" of "disposable" books and "the underlying cynicism of the people acquiring, publishing and selling them," Mr. Karp brought up his acquisition of the Aiken memoir as an example of a time he fell victim to the temptation of cashing in.
"In weaker moments, I've been seduced by tales of celebrity, money, gossip and scandal. Among my crimes: I volunteered to edit a White House memoir by a self-serving egomaniac because I wanted to learn about presidential politics," Mr. Karp wrote. "I worked on a book by Panamanian dictator Manuel Noriega because we thought he might be able to provide an illuminating perspective on how the United States wields power in Latin America. And, in an effort to bolster the company's bottom line, I acquired and edited an inspirational autobiography by the pop singer Clay Aiken, written and published in about four months. (For the record, Noriega was a lot more pleasant to deal with than Aiken.)"
Youch!
Asked what he thought of Mr. Karp's hit on his client, Mr. Vigliano giggled and said he had not been aware of the piece. A sale, he said, is expected to close next week.