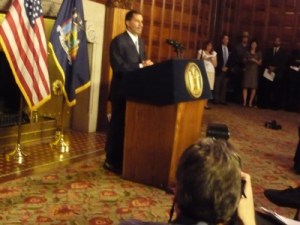 ALBANY—On Tuesday morning, David Paterson sent the still-hobbled State Senate his political wish list to act on in extraordinary session that went up in flames. Now, as the governor points his finger at the chamber, some are wondering if that was the idea all along.
"It wouldn't surprise me if it was either a matter of incompetence or a purposeful decision," State Senator Bill Perkins, a Harlem Democrat who I can't recall ever saying a bad word about the governor, told me. "Up until you asked the question, I thought it was incompetence. To be purposeful like that is so Machiavellian, to manipulate the work we're here to do is so irresponsible. For it to be purposeful would be, I daresay, almost criminal."
Democrats in the chamber have for the past few days questioned the legal validity of any legislation passed in a one-house extraordinary session. One attorney representing the Democratic conference said he expressed doubts to Paterson's staff on Sunday night, before the session, and was rebuffed. On Tuesday, with a calendar containing controversial progressive legislation before them, Democrats gaveled in and out for
"His counsel said that this was constitutionally iffy," Senator Liz Krueger, a Manhattan Democrat, told me in frustration. "I fear, in my worst-case analysis, that the governor wanted to have his cake and it too, saying he brought these bills to the floor, we are the ones that failed to do them, but if the Republicans had come to the floor today and there were votes, he would be forced against his will to have to not recognize this session as real."
The halls of the building were stocked Wednesday with demonstrators chanting for their causes, which Paterson revived: tenant protection measures, legislation to guarantee higher wages for farmworkers or legalize same-sex marriage.
"It's great that the governor put the bill up, but he should have made sure that the Assembly and Senate were back in session if that's what's needed," said Ron Zacchi, executive director of Marriage Equality New York, who was advocating on behalf of the same-sex marriage bill.
"It seemed like the only way it's going to get addressed this year," said Earl Eichelberger, an advocate with the Catholic Conference, who was demonstrating in favor of the farmworker bill.
Both were standing outside the offices of the Senate Democrats.
At a press conference later in the day, David Paterson told reporters that "I think the people have had enough. I know I have." He fumed that Democrats on Monday, including Senator Malcolm Smith, blamed Paterson for not delivering bills on time. Paterson threatened to withhold senators' pay, and obtain a court order to compel them to action.
They wasted no time firing back. Senator Kevin Parker, a Brooklyn Democrat, accused the governor of "scapegoating."
"He's stepping on our backs in our crisis to push up his abysmal poll numbers," he grumbled.
Senators Hiram Monserrate and Eric Adams held an impromptu press conference, where Adams charged Paterson "lied" about delivering bills on time on Monday.
"The governor lied. And I'm insulted, that as long as I've known David Paterson—Governor Paterson—he's given the indication that those bills were ready, and they weren't. That he's giving the indication that we were not in the chamber when we were, two days in a row," he said. "You can't sell woof tickets—you have to be an executive and demand that everyone's in the chamber."
Regardless of how this plays out, Paterson is covered. He has proposed the legislation he has long talked about, and revived the shield that was not available to him with the complete Democratic sweep of both houses of the Legislature: a lack of cooperation from his partners in government.
Morgan Hook, a spokesman for Paterson, said that "these accusations are a distraction."
"They're trying to distract the public from the fact that they have yet to resolve their leadership problem and do the people's business," Hook said. "Governor Paterson has maintained for weeks that these are critical issues that need to be addressed in a timely manner."
Another extraordinary session is on tap for 3 p.m. Thursday.