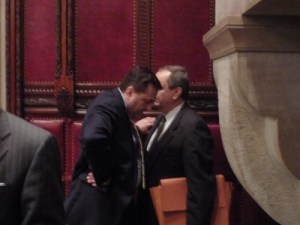 ALBANY—Steve Pigeon, a registered lobbyist, violated the rules of the State Senate when he appeared on the floor, Democrats allege.
While Pigeon insisted to me by phone that he "resigned" as the "volunteer" lobbyist for Responsible New York, the political entity of Florida-based billionaire Tom Golisano, a spokesman for the Commission on Public Integrity said it had received no termination papers from Pigeon.
Senate rules state "no person shall be admitted to the floor of the Senate who is interested in pending or contemplated legislation, or who is employed by or receives compensation from any public or private source for influencing legislation."
Responsible New York, which lists Pigeon as a lobbyist, spent $17,612 this year lobbying on the subject of "property taxes."
I spotted Pigeon on the floor during the extraordinary sessions on Thursday and Friday. He told me afterward that he was a guest of Senator Pedro Espada Jr., and that he expected to be brought on payroll as Espada's counsel when the Senate imbroglio passes. He said he submitted his resignation to Responsible New York, but said it was up to them to notify the Integrity Commission.
"I might have beat it to the floor," he told Liz.
Austin Shafran, a Democratic spokesman, said Pigeon's presence violated the rules. "Because Pigeon is a registered lobbyist with the Commission on Public Integrity, he should not be allowed on the floor," Shafran said.
Pigeon is also coming under fire for his stewardship of elections committees in Erie County. The central allegation is that he didn't file required disclosure forms. This puts him in similar company as Espada, who is the gold standard for flouting election law.
And Pigeon is not the only active lobbyist working with the Bronx Democrat who claims to be the State Senate's president pro tem. Stanley Schlein, who lobbies on behalf of real estate interests, has been representing Espada in negotiations over the Senate's leadership.