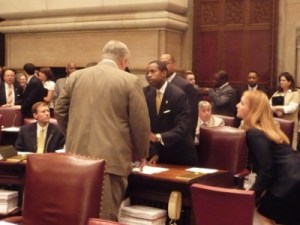 ALBANY—Democrats in the State Senate are passing bills!
And it's all because Senator Frank Padavan walked through the back of the chamber, Democrats say. He was spotted by several people (although I didn't see him), and journal clerks counted him as a present as Senator Andrea Stewart-Cousins gaveled in and led the pledge. His presence, however brief, apparently, gives the Democrats the 32nd vote they need for a quorum. Now the senators are reading through non-controversial bills on their active list, calling the vote as 32-0.
Legislation renewing mayoral control of New York City schools is not on the list, still.

Since this is ostensibly a regular session, not an extraordinary session, the arguments about the validity of bills passed by the Assembly and then advanced by Democratic senators wouldn't apply.
UPDATE: Scott Reif, a Republican spokesman, said of Padavan, "He did walk through the chamber at a time when he did not believe it had convened, and he believes using his presence toward a quorum would be a 'fraud.'"