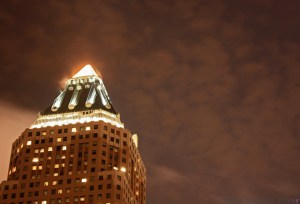 Deutsche Bank blindsided real estate investors George Comfort & Sons and RCG Longview on Monday, June 22, when they learned—just hours before the Wall Street Journal ran an item leaked by Deutsche through their broker Eastdil Secured—that the bank was backing out of its deal to sell a controlling interest in Harry Macklowe's old Worldwide Plaza. Sources involved said even some Deutsche players were taken aback.
George Comfort and his partners had already made a huge deposit for the property at 825 Eighth (a source would only say it was between $50 million and $100 million), and they were scheduled to close the deal June 30.
At press time, Deutsche had yet to respond to a request for comment. Nor, for that matter, have the would-be buyers gotten a full explanation.
George Comfort & Sons is still interested in closing the deal, sources says. Meanwhile, Eastdil finds itself in the unenviable position of having to start from scratch.
drubinstein@observer.com