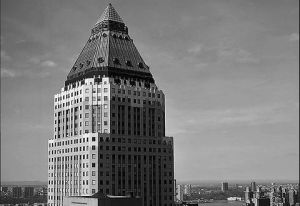 Deutsche Bank may have unceremoniously kicked would-be Worldwide Plaza buyer George Comfort & Sons to the curb on Monday afternoon—to the shock of nearly everyone involved—but the spurned suitor will not be deterred. George Comfort & Sons just released the following statement to The Observer via their spokesman at Rubenstein (no relation to this writer):
Despite a report that the deal to buy Worldwide Plaza has collapsed, the investment group in contract to purchase the 1.8 million square foot Manhattan office tower says it is "ready, willing, able and eager" to close on the acquisition.

Speaking on behalf of his company and its partner, the real estate investment firm RCG Longview, Peter Duncan, President and CEO of George Comfort & Sons, Inc. said his group "was disappointed" that the seller, Deutsche Bank AG, has decided not to honor the contract. "We have an executed sales contract, a significant hard deposit in place, and even a closing date of June 30th from the seller's attorneys. We are ready to close," stated Duncan. He added that he was hopeful that the seller would proceed with the closing as scheduled.
The office complex in question is the last remnant of the jewel of a midtown real estate portfolio that mogul Harry Macklowe turned over to his creditors at Deutsche Bank in early 2008. Eastdil Secured, which had been marketing the building for Deutsche (and was probably preparing to celebrate its sale with a nice bottle of Veuve Clicquot), now has to start over.
Any number of unconfirmed rumors are circulating about what caused Deutsche to so suddenly, and with so little explication, put the kibosh on a deal so close to its closure. Some argue that other would-be buyers offered more favorable terms to Deutsche at the last minute. Others speculate that Deutsche got cold feet about retaining any sort of equity stake in the tower, which, with the departure of Ogilvy and Mather to 11th Avenue, has huge vacancies.
drubinstein@observer.com