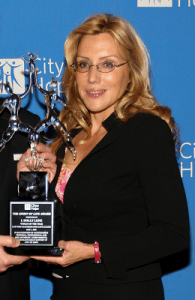 Is Dolly Lenz, the only broker in the world with her own BlackBerry commercial, the single biggest real estate agent in the nation? Or is the quieter 39-year-old Serena Boardman?
Ms. Boardman, a Sotheby's senior vice president, takes the top spot in the annual list of the nation's top brokers that a group called Real Trends publishes in The Wall Street Journal. Ms. Boardman, whom other agents seem to actually like, which is rare, sold $255,164,563 of real estate last year. The only other individual New York brokers in the top 10 are Leighton Candler (No. 3, $201 M.) and Roger Erickson (No. 4, $193 M.).
On a separate list of the top 100 teams, the seven-person Carrie Chiang group got the top spot with $505,931,920 in sales volume. "I know everybody said me," Ms. Chiang told The Observer for a 2007 story in which top brokers named their favorite peers. "Did everybody say me?"
Dolly Lenz, who was named the nation's top individual broker two years ago when her number was $748,319,000, four times higher than the runner-up, wasn't on either list this year. She was missing last year, too. "We didn't respond to their surveys," Howard Lorber, who co-owns Prudential Douglas Elliman, where Ms. Lenz is vice chairman, explained last year. "We think it's ridiculous; no one checks anything, anyone can put whatever they want. … I know people on that list, O.K.? You ask yourself, why do you even want to be on it? They were so off, it was laughable. Who wants to be involved on a stupid survey that's not even accurate? We just made a company decision not to do it."
But this year Elliman reversed course, and sent in Ms. Lenz's number. "We submitted it to them," Mr. Lorber said Wednesday. "I have no idea what they did with it."
That number, he said, was $522,473,436. He surmised that Ms. Lenz was left out because of a disagreement over whether she should be put on the individuals or teams list, or simply because Real Trends was peeved that her numbers were withheld last year but submitted this year. Ms. Lenz did not return an email.
UPDATE, Wednesday 2:51 p.m.: "There's no question in the world she belongs in the top ranks, but she didn't give us what we needed and every other broker supplied it," Steve Murray, the chief of Real Trends, just told The Observer. As of last year, he explained, his firm has been asking top brokers to send in verification of their numbers: "In this case she could have supplied a copy of her 1099," the tax form. "They refused to submit it. Refused. So that would have knocked her off all by herself. Second, she continued to insist that she's an individual agent when we documented the fact that she has teams of agents working on her listings."

mabelson@observer.com