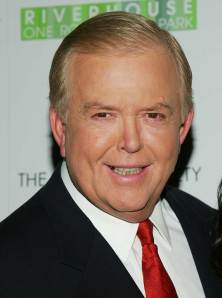 Lou Dobbs frowned. It was the night of Friday, June 5, and the CNN anchor was in front of the cameras, reporting the news that President Obama had created a new position in the White House—a so-called "pay czar" who would monitor executive compensation at businesses bailed out by the government.
"The number of czars now in the Obama administration: roughly 20," said Mr. Dobbs. "That would amount to almost as many czars as there were in czarist Russia throughout history."
For the next several minutes, Mr. Dobbs and company fleshed out the apparent parallel between Russian history and the Obama administration. Some czar-inspired imagery flashed across the screen. Ivan the Terrible. Nicholas II. Russian men with sinister facial hair. Bolshevik women in outlandish hats. At the bottom of the screen, the chyron read: "ALL THE PRESIDENT'S MEN: White House brimming with 'czars.'"
Mr. Dobbs puckered his lips. He looked like he been sucking on a lime dipped in Tabasco sauce. "Twenty some-odd czars," said Mr. Dobbs. "That's amazing."
Drawing comparisons between the White House and the Kremlin or between Mr. Obama's economic philosophy and that of Karl Marx is all the rage in conservative media circles these days. Elsewhere in the cable news landscape, various Fox News anchors, including Glenn Beck and Sean Hannity, have been able to parlay such commie-socialist name-calling into skyrocketing ratings.
But at CNN—and also at HLN (né Headline News), where Lou Dobbs Tonight repeats each weeknight—the nightly slicing and dicing of the 44th president's economic policies has done little to beef up Mr. Dobbs' ratings. Instead, Mr. Dobbs' audience seems to be in decay.
During the month of May, according to The Observer's analysis of Nielsen data, Mr. Dobbs' 7 p.m. program on CNN averaged 657,000 total viewers and 181,000 in the key 25-to-54 demographic—numbers that were down a whopping 29 percent and 27 percent, respectively, versus May of 2008. Along the way, Mr. Dobbs sank into third place in his time slot, trailing Fox News' Shepard Smith by a bundle and MSNBC's Chris Matthews by a sliver. During three out of the first six weeknights in June, Mr. Dobbs' place in the standings sank even lower; he finished fourth in the demo, falling behind HLN's Jane Velez-Mitchell.
On HLN, Lou Dobbs Tonight hasn't fared much better. During a month in which CNN's sister network has seen its weekday prime-time ratings grow an impressive 40 percent year-over-year in the 25-to-54 demo, the 9 p.m. repeat of Mr. Dobbs' show was down 8 percent (129,000 versus 140,000) in the demo compared with the same time period last year.
In fact, on the night of Mr. Dobbs' czar analysis, the 63-year-old anchor managed to pull off what must be rare feat in the history of cable news: He finished in fourth place in the demographic at two different time slots (7 p.m. and 9 p.m.) on two different networks (CNN and HLN) on the same night!
OF COURSE, Mr. Dobbs is hardly the only CNN anchor struggling to hang on to his audience. Anderson Cooper and Campbell Brown have seen some of their viewers disappear since the start of the year. But Mr. Dobbs' recent dip promises to make CNN's challenge of recapturing second place from MSNBC in prime time that much harder.
All of which is surprising, considering it wasn't so long ago that CNN executives moved Lou Dobbs Tonight from 6 p.m. to the 7 p.m. hour, believing that in the months ahead, Mr. Dobbs' rising popularity would lend momentum to their prime-time lineup.
At the time of the move, in November 2007, Mr. Dobbs was ascendant. Immigration was the hot-button issue in cable news. And Mr. Dobbs' show, with its heavy dose of heartland heartburn and populist outrage, owned it. Viking Press was on the verge of publishing Mr. Dobbs' fourth book, Independents Day: Awakening the American Spirit, and for weeks, everywhere you looked, there was Mr. Dobbs on an extended media tour, thundering against big business, amnesty advocates and Eliot Spitzer's plan to give driver's licenses to undocumented immigrants. Rumor had it that Mr. Dobbs was even considering a third-party run for president.
So what happened?
"I don't know if it's true in Dobbs' case, but sometimes people just tire of acts," writer Ken Auletta ventured to The Observer recently.
Mr. Auletta recalled that, in late 2006, he was working on a profile of Mr. Dobbs for The New Yorker when he happened to meet now President Obama at a book party. The then U.S. Senator from Illinois proceeded to pepper Mr. Auletta with questions about Mr. Dobbs. Was he a true believer? Or was it all an act? "He was someone who Obama had very much in mind," said Mr. Auletta. "At that point, he was perceived as a real factor in the campaign. Dobbs generated real heat then. That doesn't seem to exist at this moment."
During the early months of the 2008 presidential campaign, when Mr. Dobbs' political sway was at its zenith, he liked to predict that an independent, third-party movement would rise up and alter the election. But as the months progressed and the two major parties offered up a series of captivating characters (from Ron Paul to Mike Huckabee to Dennis Kucinich) and riveting story lines (Hillary Clinton vs. Barack Obama), interest in third-party politics petered out—along with much of Mr. Dobbs' relevance on the campaign trail.
But in the eyes of TV news critic Andrew Tyndall, Mr. Dobbs' cooling off is primarily attributable to the fading of immigration as a core issue of national concern. "On the general news agenda, immigration has just completely disappeared as a story," said Mr. Tyndall. "The extent to which, in his reincarnation, he came back as a immigration guy—that's a very narrow beat. If immigration is not an issue, what's he got?"
"Every night Lou Dobbs continues to tackle the most complex, challenging issues facing this country and our world," said a CNN spokesperson when asked for comment. "No other show at 7 p.m. offers the insightful, solid reporting on subjects from the economy, to North Korea, national security, foreign policy, with strong debate and discussion from all sides."
fgillette@observer.com