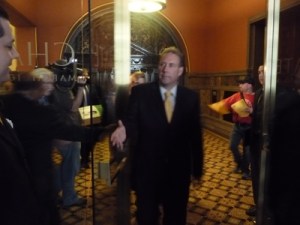 ALBANY—News came from the governor's office that Rick Dollinger, a Rochester attorney, has been nominated to a $136,700-a-year court of claims judgeship.
Liz reminds us that Rick Dollinger was the man who, last fall, waged a bitter but ultimately unsuccessful campaign against State Senator Joe Robach for his $79,500-a-year seat.
Dollinger's appointment is subject to confirmation by the State Senate, should that chamber ever resume operations.
I asked Robach for his thoughts as he walked onto the floor.
"My answer would be," he said through a smile, "like every nomination that comes before this house, I would certainly look at it based on his qualifications."