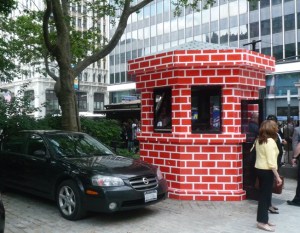 Thanks to Mark Sanford, the AP wants to know where the governors are right now. Paterson said FOIL it. The governor of Maryland was in New York, fishing with his son.
Rudy Giuliani said this morning, "I don't know if I'm at the point of seriously considering it."
A Newsweek blogger writes, "Maybe Rudy's lack of regard for the retail, handshake politics of small states like New Hampshire, South Carolina, and Iowa will even win him a few fans in the Empire State."
Alex Koppelman of Salon says "the situation right now couldn't be better" for him to do it.
The Colorado Independent would not have accepted Giuliani's answer this morning.
One writer was late hearing Bloomberg's speech to techies because of train cutbacks.
National Journal says "the era of flashy big-city mayors appears to have come to an end for now."
The Working Families Party will host a mayoral forum this Thursday, and will stream it online.
The AP reports on the art at the guard posts at City Hall.
Simon Houpt will miss Bloomberg's affinity for public art.
Mark Green writes on HuffPo about "Running for Office, New York Style."
In the comments section, Gale Brewer says her staff Twittered an entire Council hearing on technology in government.
And pictured above is one of the newly artsy guard posts at City Hall.