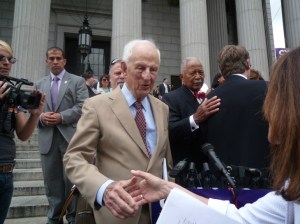 On Kirsten Gillibrand's race next year, Rahm Emanuel said he told Steve Israel "we are going to be involved in the race and I want you to know that."
Emanuel denied he threatened to have Obama campaign in black neighborhoods against Israel.
Kos diarist Robert Harding writes "While Maloney is strong in New York City and shaky elsewhere, Gillibrand is strong in most categories."
Another Kos diarist, HylasBrook, says we should focus on the legislature.
Rick Lazio "fully intends" to run for governor, according to his spokesman.
"This is governance versus chaos," said David Paterson about the senate stalemate [no link].
Lazio is on NY1 tonight. Here's video of Giuliani there yesterday.
CityFile enjoyed seeing Rudy Giuliani re-enter the public eye just as the Mark Sanford story broke.
The Manhattan DA race is "shaping up to be more competitive" than the mayor's race, says this AP story.
Blooomberg said inaction by the senate would mean, basically, "We want to resurrect the Soviet Union."
Tom Duane told the Villager that renewal of mayoral control us a sure thing.
Bloomberg wants to build 5,000 units of affordable housing at the site where he once wanted to build the Olympic Village.
Bloomberg, Sheldon Silver, Donald Trump and others mingled with a few reporters I know.
A blogger says Bloomberg's plan to gas geese is "a sick,inhumane plan to fool the residents of New York into thinking that the city is doing something to help protect it's airports."
Christine Quinn said, "Yes, absolutely" she wants to get married.
Lew Fidler is the king of member items in the City Council.
This Queens blog accuses Quinn of using member item money to help bolster Liz Crowley's re-election prospects, but doesn't offer any specifics.
HuffPo's New York editor remembers a time when New York State was "dragged down" by the "Bad/Rotten/Generally Dysfunctional Apple."
Public schools are planning to cut teachers, but some may get their jobs back.
The AP wonders "Why do politicians cheat?"
Ben Smith reports that Mark Sanford was planning a ten-day trip to Argentina.
And above is one more shot of Robert Morgenthau, who endorsed Cy Vance today.