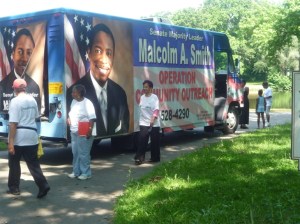 Kirsten Gillibrand, Eric Schneiderman, and Adriano Espaillat will meet the president of the Dominican Republic.
Ruben Diaz Jr. is prepared for the return of the Board of Education, and already knows who he would appoint.
The A.P. carries news of Bloomberg's opposition to giving public schools Muslim holidays.
In an open letter to Bloomberg, Russell Simmons writes, " [I]f we do not help those who are suffering in poverty, they will eventually rise up and put many elected officials on the same unemployment line as they are on now."
Rick Karlin listens to Bloomberg's remarks about the Senate today.
The Legislative Gazette carries John Sampson's message.
Sampson has a fan on Room 8.
Sorry N.Y.C. sales tax, Ruben Diaz Sr. isn't ready to pass you yet.
Mark Sanford still makes great copy.
And pictured above is a van that Malcolm Smith used to promote the first annual Health Walk in his district.